The Chinese regime is now seeking to shut down the programs that have kept open a window to the world for China's internet users, but software developers and internet users in China are working to develop solutions that will continue to undermine the regime's censorship.
Virtual private networks (VPNs) have been widely used by internet users in China to circumvent the Great Firewall, the nickname for the sophisticated system that the Chinese regime built to censor and monitor online traffic in and out of China. By one estimate, around 30 percent, or about 200 million out of the China's 700 million netizens, have used VPNs to access foreign websites or online contents that would otherwise be blocked.
By using a VPN, internet users in China can fool the Great Firewall, causing it to determine that they are located outside China, which enables them to connect to the web undetected and hence uncensored. The use of a VPN however, often causes users extra costs and inconvenience. It may also expose their personal information to the VPN's servers outside China.
The Chinese regime has made numerous attempts in the past to crackdown on the use of VPNs. Due to the nature of VPNs, however, such crackdowns often only affect the most popular VPN providers, while determined users would eventually find a new VPN to work around the blockage.
Last week, China's Ministry of Public Security issued a nationwide order to all local censorship and law enforcement agencies to start a new crackdown on the use of the VPN tool. The order specifically targeted a number of popular circumvention software programs, such as Freegate, Ultrasurf, Lantern, and Psiphon, and labelled them as being developed by "hostile foreign forces."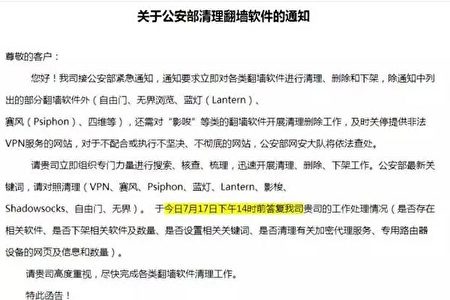 Widespread reports from China indicate that the renewed crackdown has taken a toll, as many Chinese netizens can no longer access Youtube, Gmail, Instagram, or Twitter by using the VPN tools and providers they have been relying on. There was also a report that a developer of a VPN app has been arrested. 
Just last week China also moved to block WhatsApp, one of the last remaining private messaging apps in China that was not completely exposed to the Chinese regime's censorship and surveillance.
Struggle Continues
Many observers say, however, that the renewed crackdown on VPN might be a temporary measure, since the tightened restrictions, if sustained too long, will inflict adverse effects on China's international commerce and technological exchanges with the outside world.
Some developers of circumvention software and VPN providers also vow to continue their fight against censorship. Bill Xia, the creator and CEO of Freegate, one of the software programs specifically being targeted, told The Epoch Times that the new wave of crackdown on his software provides opportunities for more people to become aware of China's censorship. Xia said that circumvention software is being widely used even among Chinese government agencies and schools in China.
"We developed Freegate specifically for the users in China, and we also work to continue upgrading it," said Xia, "The number of users in China that are actively circumventing internet censorship has grown so huge, that the Chinese Communist Party can no longer keep track of who's doing it."
Many observers have said that the Chinese regime's internet censorship goes against the very nature of the internet, which was designed and developed to connect the whole world. Xie Wen, a former executive of Yahoo China told NTDTV that the Chinese regime is attempting to turn the internet in China from a web that connects everywhere into "a web that connects to nowhere."
Alexander Klimburg, a program director at The Hague Centre for Strategic Studies, also said last week at an Atlantic Council event that authoritarian regimes like China want to fundamentally change the way internet is being run because they "see information as a threat and a weapon".
Klimburg, whose recently published book "Cyber Risk Monday: The Darkening Web" contains detailed discussion of China's internet censorship, said that the Chinese regime sees the internet as a threat to its one-party rule. Klimburg said that the regime wants to achieve a level of control over the internet that would allow them to do things such as "blocking access to the New York Times, or to take down Falun Gong websites."
China's Great Firewall, originally designed as a censorship system targeting only users in China, has been so well-developed that it is now officially weaponized and can be used to attack foreign countries and users in cyberspace, according to Klimburg's new book.