The Chinese regime has announced that beginning in September, students will be taught "Xi Jinping Thought" from primary school all the way to university—in a bid to "arm" their brains with Marxist belief and communist ideology.
The Ministry of Education issued new guidelines on Aug. 24 incorporating the ideology tied to Chinese leader Xi Jinping into the country's national curriculum. The measure formalized policies announced earlier this summer.
The move aims to strengthen the "resolve to listen to and follow the Party," and new teaching materials must "cultivate patriotic feelings," according to the guidelines.
An official of the Ministry of Education stated during an Aug. 24 press conference that it will introduce "Party-leadership"-related content into the curriculum and teaching materials of schools and universities.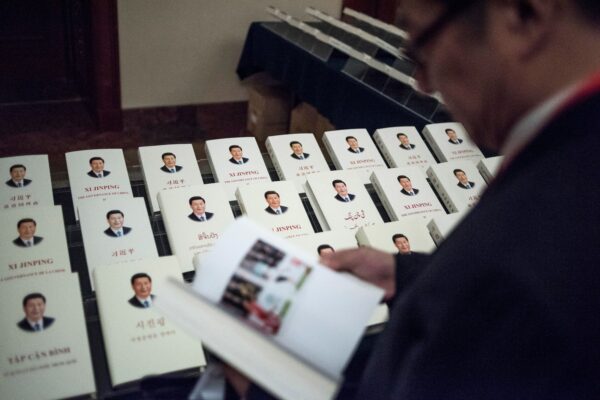 A mandatory textbook, titled "Xi Jinping Thought on Socialism with Chinese Characteristics in the New Era," is to "gradually form" the confidence of the young generation in supporting socialism and the Party's leadership, the ministry said in a July 8 announcement.
The book will be taught in classrooms starting in September, following the summer break.
Xi's sweeping efforts to indoctrinate the Chinese youth stem from a desire to build a personality cult similar to that of Mao Zedong, the Chinese regime's first leader, noted Feng Chongyi, a professor on China studies at the University of Technology Sydney.
Chinese people in the 1950s and 1960s would "be in tears upon seeing Mao Zedong, and would read the 'Little Red Book' respectfully," Feng said, referring to a book of Mao quotes that was required reading for virtually the whole populace during that time.
But Feng believes that Xi's attempts to foster this same kind of "heartfelt admiration" won't work in the internet age, pointing out that "mockery [of Xi] is all over the internet."
Since coming to power in 2012, Xi has sought to strengthen the ruling Party's role in all areas of society, including its businesses, schools, and cultural institutions.
His personal brand of dogma, officially known as "Xi Jinping Thought on Socialism With Chinese Characteristics for a New Era," was formally enshrined in the Chinese Communist Party's constitution in 2018. Xi's personal power has also been strengthened by the abolition of presidential term limits.
In a speech to mark the centenary of the Chinese Communist Party celebrated in July, Xi vowed to "enhance" the Party's leadership, uphold his own "core" leadership, and strengthen the unity of the Chinese people.
Along with boosting the study of communist ideology in classrooms, the regime has made moves to exclude the teaching of foreign languages and materials.
The Shanghai municipal government education bureau in early August put a stop to primary school English exams. The regime has also announced a ban on public primary and middle schools from using foreign textbooks without review or approval from education authorities.
Luo Ya and Reuters contributed to this report.