Chinese Regime Abruptly Cancels Historical Opera
September 26, 2011 2:17 pm Last Updated: October 1, 2015 3:33 pm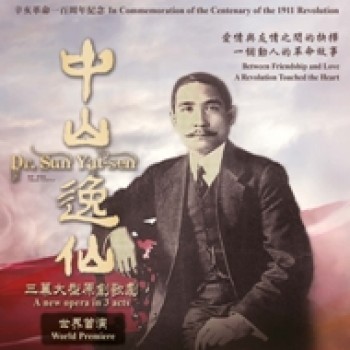 Chinese authorities have abruptly cancelled a high-profile opera commemorating the 100th anniversary of the overthrow of the Qing dynasty, highlighting the fact that history is still a profoundly political matter to the country's communist rulers.
The opera, "Dr. Sun Yat-Sen," was scheduled to be performed at the National Grand Theater in Beijing on Sept. 30, but the plug was suddenly pulled, according to the Hong Kong-based Apple Daily on Sept. 26.
Arrangements for the performance of the opera at the Grand Theater had been in the works for many months; Warren Mok, the leading tenor, said it would have to be postponed until at least next year.
The unexpected prohibition was due to a sudden change in attitude of some high-level party officials toward how the 100th anniversary of the Xinhai Revolution, where the Qing dynasty was toppled, should be commemorated.
After Internet users began making comparisons between the corrupt and sclerotic final years of Qing reign, and the current rule of the Chinese Communist Party, the topic was elevated to the level of a sensitive political matter.
Party leaders originally also thought that a high-profile commemoration would help their efforts at "reunification" with Taiwan–and that seems to have changed, too, according to Zhu Jianguo, a news commentator in China.
There is now a straitjacket in the media on how the anniversary is spoken of, with unapproved opinions being resolutely stamped out.
A number of incidents this year illustrate the stakes: a conference commemorating the 100th anniversary that involved a dozen universities in Beijing was cancelled without reason; the editor of the magazine "Southern Window" in Guangzhou was fired after publishing an article that severely criticized Yuan Shikai, a warlord from the Republican Era after the Qing dynasty collapsed; the editor of Xiaoxiang Morning News in Hunan was fired after a special edition on the Xinhai Revolution deviated too far from the official propaganda line.
The way that Sun Yat-sen, the figurehead leader of the revolution that overthrew the last imperial dynasty, is discussed is also restricted: his patriotism is permissable ground, but certainly not his theory of the "Three Principles of the People" or the "Five Branches of Government," both of which are indictments on the form of political dictatorship that currently holds sway.
Read the original Chinese article.
chinareports@epochtimes.com