Chinese Professor Pursues Democracy on Campus
November 17, 2007 12:00 am Last Updated: November 17, 2007 12:00 am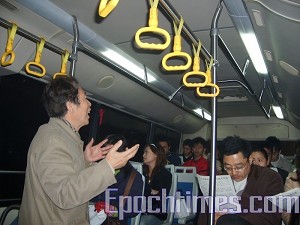 Sun Wenguang, a retired university professor, is currently running for the Chinese National People's Congress (NPC) as an independent candidate.
"I don't know why the university authorities panic so much over a 73-year-old man like me," said Sun. "Actually my campaign can't have much influence on the election. So I guess the university received orders from above to take actions against me."
Sun is running his campaign at Shandong University of Jinan City, Shandong Province, 300 miles east of Beijing where he retired a few years ago. Although Sun has only put up posters on campus and gave speeches to very small audiences for his campaign run, the university treated him with utmost alarm and tried to sabotage his every effort for the campaign.
In his interview with The Epoch Times on November 8, 2007, Sun discussed about some of the measures that the university authorities have taken against his campaign.



Sun said that the university ordered the security guards to tear down his campaign posters all over campus and confiscate his display boards. Moreover, the authorities took pains to keep students from voting for him.
According to Sun, every department in the university has officially warned the students to stay away from him, calling him a man with "wrong political thoughts" and "connections with foreign forces." One department, for example, held an emergency meeting attended by Party members in which the following was announced:
"Some independent candidate is being supported by foreign forces to run in the election. Students are forbidden to listen to the candidate's speech. Those who attend his speech should be brought back. No one is permitted to vote for him. We will check to see who casts their vote for him. Once a Sun-voter is discovered, we will punish the student and those in direct charge of him/her."
The university's Party branch secretary himself even sat outside the dorms one afternoon in order to prevent students from listening to Sun's speech. As a result, many of the students were too scared to take any action.
Sun noted that he had already challenged the university authorities' Gestapo-like tactics to threaten students. He pointed out that, according to the campaign act, it is against the law to threaten the rights and freedom of voters. He also stated very clearly that he will file a lawsuit against the threat if necessary.
Sun is determined to carry on his campaign, but he said the voting results are not of primary importance to him. "It is the concept of basic human rights and encouragement from those around me that have motivated me to advance forward in my pursuit of a democratic and constitutional government," said the former professor.
In his speeches, Sun promoted awareness of civil rights, and called on the people to stand up against oppression instead of continuing to be tame lapdogs in the face of the authorities. Even though he could only maintain contact with a small number of students during each of his speeches, he is satisfied with the results.
"Many students looked excited after hearing my speech as though it was their first time listening to the truth," recalled Sun. "Some students even relayed and broadcasted what I told them. Still, other students actively helped me to distribute leaflets and circulate posters. Of course there were also some students who chose to look on silently."
Despite all the harassment, Sun has gained a large amount of support for his campaign, public or otherwise, among the staff and students at Shandong University. "If I had another two weeks, I believe I could win," said the white-haired professor with confidence.