Chinese Premier Clarifies Status of China's One-Child Policy
March 10, 2008 12:00 am Last Updated: March 10, 2008 12:00 am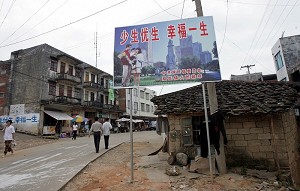 Recently, the Chinese regime has been capricious in discussing its one-child policy, causing confusion in the media.
The current rumor that China will abandon its one-child policy derived from a February 28 report, issued by Reuters. The article quoted Zhao Baige, Deputy Director of the National Population and Family Planning Commission (NPFPC), saying that China was considering relaxing its grip on the number of children a couple can have.
On February 29, The New York Times, International Herald Tribune, Guardian, Daily Telegraph and Times from the UK all quoted Zhao's speech.
However, NPFPC denied these reports, saying that they were inaccurate and baseless.
But on March 2, Wu Jianmin, spokesman for National Committee of Chinese People's Political Consultative Conference (NCCPPCC) said publicly that related departments are considering adjusting the one-child policy.
Soon after Mr. Wu's speech, officials from the NPFPC again came out to deny such changes were being considered. Officials from NPFPC disclosed that Premier Wen Jiaboa would mention in an up coming speech that China will keep the current birth control policy and maintain low birth rates.
The officials said China will neither adjust the policy, nor will it research on the feasibility of the adjustment to the policy. He also mentioned that NCCPPCC does not represent the government agencies.
On March 5, Premier Wen Jia Bao indeed confirmed that China will keep the current birth control policy, designed to keep a low birth rate, indirectly clarifying recent speculation on whether China will adjust its birth control policy.
The CCP insists that the birth control policy promotes social prosperity and stability. However the implementation of the policy has caused many problems. In many incidences especially, cruel behavior of local officials has stirred up a lot of conflicts between officials and common people.
In addition, the policy has lead to the severe imbalance in the nation's sex ratio. The current ratio of boys to girls is 119.50 to 100. The degree of imbalance tops the world. The normal sex ratio is between 103 boys and 107 girls. The National Statistic Bureau's sample shows an even worse situation with the sex ratio in the country being between 122.85 boys to 100 girls.