Chinese Police Suppress Parents Demonstration for Missing Children
April 21, 2009 10:34 pm Last Updated: April 21, 2009 10:34 pm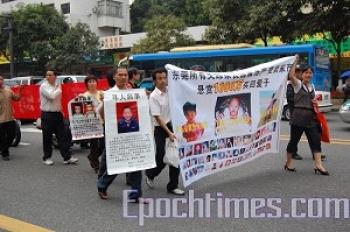 reward for finding our missing children") staged a march on April 15 in Dongguan City of Guangdong province. (The Epoch Times) "]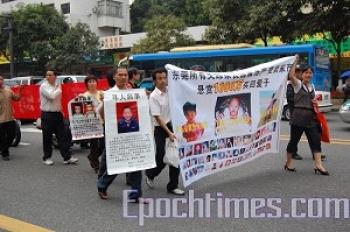 On April 15, over 30 parents of missing children staged a march in Dongguan City of Guangdong Province to call for the authorities to take action on finding the city's over 1,000 children that have disappeared over the recent past few years. The local police dispersed the crowd and wounded some demonstrators.
The demonstration was an eruption of a long-suppressed frustration in the police force and the government. Some parents said most cases have not been officially registered for investigation due to "lack of evidence." The parents have appealed to many higher authorities for help, but were all rejected.
Parents have accused the police of indifference and cruelty when handling their cases.
A mother said her 9-month-old son was grabbed from her arms in front of their home. A policeman on site chased the kidnapper for five minutes before he stopped and announced that it was time for him to go off duty.
Another mother said her son was abducted right in front of their family-run store. They waited for 24 hours for the police, who never showed up. Finally the desperate family went to the police station and knelt down to beg for help. Later the family received phone calls from the kidnapper, but the police still did not provide much help.

"Many people were watching our march," a parent said. "They all sympathized with us, and cursed the government when the police beat us up. But the police said we deserved to lose our children."
Losing a child is often more unbearable for parents in China than in other countries because of the one-child policy and the traditional belief in people's obligation to pass down the family name. Many of the parents have spent their last penny looking for the children, and some even remarried so they could be allowed to have another child.
The desperate parents have formed a union to search for missing children and offered a reward of 10 million yuan (US$ 1.46 million) for the location of any of the missing children.
Read original article in Chinese.