Chinese Police Shoot Villagers, 33 Dead, Over 20 Missing
December 10, 2005 12:00 am Last Updated: December 10, 2005 12:00 am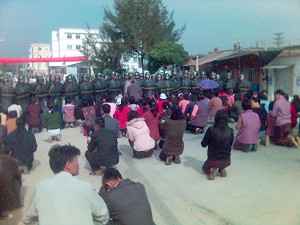 For the past five months, villagers in Shanwei in China's Guangdong Province have been protesting to the government for forcibly taking away their land to build an electricity plant. On December 6, the Provincial government used the military to crush protests. During the suppression, the military and police shot at villagers causing 33 deaths. 22 villagers are reported missing. An NTDTV reporter interviewed villagers in Shanwei City about this incident.
According to villagers in Shanwei, Guangdong province, at 5pm on December 6, approximately two thousand armed police and riot police arrived in Dongzhou village, Shanwei city. They surrounded the hillside and conflicts broke out between the police and villagers who were trying to protect their land. The armed police fired shots at the villagers. So far, thirty-three have been killed and several dozen injured. Two village representatives were arrested.
A villager told NTDTV,"People who died are in their twenties. Some are in their thirties. I was shaking at home. I didn't know whether they would come here to crush us again."
Villagers said, that apart from shooting at them, the armed police used tear gas to drive them away from the hills.
An injured villager told the reporter, "I was shot. The bullet penetrated my arm."
Until December 7, the Shanwei City government had the village under police lock-down, controlling the movements of the villagers- not letting them go anywhere near the scene of the shootings.
The Guangdong Provincial government planned to build an electricity plant in Shanwei City. It confiscated farmland from the village farmers to accomplish this goal. The farmers did not receive adequate compensation. Therefore, the farmers and villagers banded together to stage a protest outside the newly built plant. The protest has been ongoing for the past several months.