Chinese Police Sell Anti-Censorship Software
August 13, 2009 3:59 am Last Updated: October 1, 2015 9:31 pm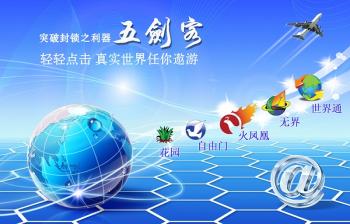 The Epoch Times has learned that police in China's Guangdong Province have been selling anti-Internet censorship software for profit, opening yet another, though unexpected, channel to promote Internet freedom to the Chinese people.
The Chinese authorities' Internet repression is considered the most extensive and advanced in the world. The regime not only blocks Web site content, but also monitors the Internet access of individuals. Amnesty International notes that China has the world's largest recorded number of cyber-dissidents.
The key to breaking through the censorship in repressive regimes and helping the millions of people living in closed societies who wish to gain freedom of information, is developing Internet anti-censorship tools.
The most popular anti-censorship products, free of charge, are UltraSurf, FreeGate, GTunnel, FirePhoenix and GPass, developed by the Global Internet Freedom Consortium (GIFC), an alliance of several leading organizations specializing in developing and deploying anti-censorship technologies.
These five different tools allow millions of Internet users inside repressive societies, including China, to safely communicate online, and to access websites on human rights, democracy and other topics of interest.
GIFC's anti-blocking software has become one of the most widely used channels for people who live in closed societies to communicate with the free world.
According to GIFC, currently these five tools accommodate an estimated 95 percent of the total anti-censorship traffic in closed societies around the world, and are used daily by millions of users.
One Internet user, nicknamed Chen Xin, told The Epoch Times that even the local police found the blockade-busting software to be a good business opportunity. One businessman who was selling anti-censorship software on the street was warned to watch out for the cops, but he admitted that he was a policeman.
"This ironic scene is not uncommon in China," said Chen, "It happens in other cities too."
Chinese Web users expressed their gratitude towards the software developing companies in messages such as: "I would be dying inside without the anti-blockage software," "With your help, we now have eyes and ears," "I've been using UltraSurf for five years. I can't live without it."
"I thank all of the participants who have made visiting blocked websites possible. I believe all people who live under this totalitarian regime need your products and support services," writes one happy software user. "I wish FreeGate could be installed on every computer in China."
FreeGate was initially released in only Chinese and English versions. As the software became more popular in other countries, other versions such as a Burmese version were added. In July last year, a Farsi version was released to meet the increasing demand of the Iranian people.
Read original article in Chinese