Chinese Police Ignore Beaten Activist, Anger Residents
September 16, 2011 3:29 am Last Updated: October 1, 2015 3:37 pm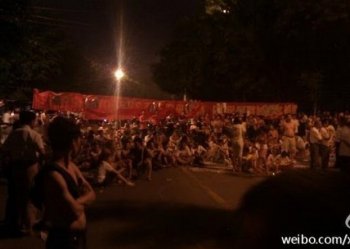 Residents of China's southern city of Nanning erupted in protest over the weekend when police ignored the case of a local rights activist being beaten.
The protesters formed a road block with banners reading, "Uphold justice, punish the criminals." They said a man surnamed Zhou, who is the associate director of an activist group within an auto plant workers' residential complex, was exiting the complex on his motorcycle when he was badly beaten by suspects who left the scene.
Although his neighbors have asked the police to investigate the case and watch the footage of a video camera positioned at a gas station near the scene, the police refused to take the case. They said it was a traffic violation, and therefore is under the jurisdiction of the traffic police.
The residents believe that Zhou was beaten for his involvement in protesting against forced relocation of the auto plant workers in the complex, and the police refused to investigate the case since they were colluding in the forced relocation plan.
According to a report by the local real estate information network, the auto plant workers' complex has been sold at a low rate to a developer without consulting with the residents. More than 900 families have been given a deadline to move without a compensation plan being discussed.
"More than 1,000 people came out to protest," a local resident surnamed Huang said. "Wangzhou Road was completely blocked by seven in the evening. The traffic was still jammed by 10 p.m., the last time I went out there. People at the scene were very anxious and angry. There were three or four hand-made banners."
When The Epoch Times called the Nanning Public Security Bureau, a police officer hung up the phone immediately after he realized that it was a phone call from a reporter.

Read the original Chinese article.
Follow The Epoch Times' China feeds on Twitter @EpochTimesChina.