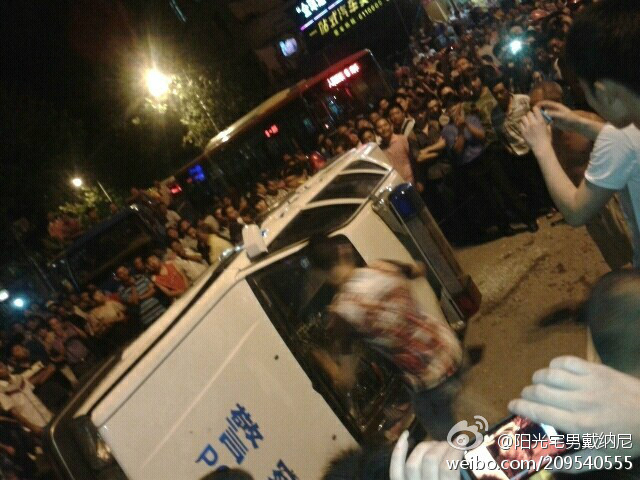 With China's 18th Party Congress approaching, government agents have been mobilized nationwide to quash any potential threats to social stability, but in some instances, these measures are backfiring. 
On Sept. 13, traffic police stationed at a bridge in Mazhan Township, Nanping City, Fujian Province, pulled a motorcyclist off his motorcycle while he was riding it. The biker hit the ground hard and, hurt, stood up to argue with the police while calling out for passersby to help.
Over 1,000 residents (mostly onlookers) came to the rescue. A clash broke out and several police cars arrived to help disperse the crowd. 
In the midst of the chaos, two people were arrested, but the traffic police fled, leaving their patrol cars behind. Afterwards, some of the angry residents turned the police cars upside down, according to eyewitness, Mrs. Hu. She said locals are fed up with the casual violence exercised by police. 
Onlooker Mr. Yang said the conflict lasted two or three hours and several people took photos. 
The bridge, which is 50 years old and in poor condition, had served as a trunk road residents used to get to work or school.
The police checkpoint was instituted this year to prevent 4-wheel vehicles from using the bridge. Without public transportation, residents are forced to ride motorcycles. Residents and police have long been in conflict over the matter. "Traffic police inspect motorcyclists every day, which causes complaints among residents," Mrs. Hu said. 
Read the original Chinese article. 
The Epoch Times publishes in 35 countries and in 19 languages. Subscribe to our e-newsletter.
Click www.ept.ms/ccp-crisis to read about the most recent developments in the ongoing crisis within the Chinese communist regime. In this special topic, we provide readers with the necessary context to understand the situation. Get the RSS feed. Who are the Major Players?