Chinese People Send 14 Billion Text Messages during the New Year Holidays
February 25, 2007 12:00 am Last Updated: February 25, 2007 12:00 am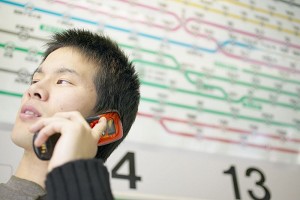 CHINA—According to the two major mobile service providers, China Mobile and China Unicom, during the Chinese New Year holiday, the number of text messages sent by cell phone users will reach 14 billion. Last year, there were 12.6 billion text message sent during the 2006 Chinese New Year holiday period.
According to the Chinese Ministry of Information Industry, there were over 429.6 billion cellular text messages sent in 2006—an average 1.2 billion messages per day.
If calculating by the minimum charge of 10 cents for each text message, the two major mobile companies make more than 100 million yuan (approximately US$12.8 million) per day, just through text messages.
During the Chinese New Year holidays, the average text messaging volume has further increased on a daily basis.
In 2006, Chinese mobile phone users were increasing, on average, by 5.64 million per month. There were over 460 million mobile phone users in China, which is 35.3 percent of the population.
With the popularity of mobile phones, text messaging has become the most efficient way to communicate.