Chinese Parents Infuriated Over New Import Duties
September 12, 2010 5:11 pm Last Updated: October 1, 2015 7:04 pm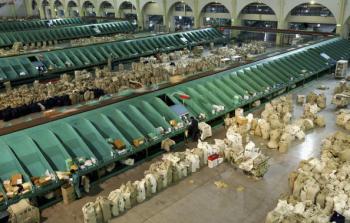 On September 1 the General Administration of Customs in China began implementing new taxation for personal international postal items imported into the country. The controversial policy, designed to stymie overseas purchasing services, has aroused the ire of parents in China who rely on the postal service to purchase safe and reliable infant formula products.
According to the findings of the "Market Survey Report of the First Half of 2010 By China e-Business Research Center," through the end of June 2010, the scale of the overseas purchasing market in China reached 7.82 billion yuan (approximately $1.15 billion) with a market potential capability of 11.03 billion yuan (approximately $1.62 billion).
The Chinese customs administration lowered the tax exemption threshold from 500 yuan (approximately $74) to the current level of 50 yuan (approximately $7.4). The current tax rate for infant formula remains unchanged at 10 percent (an infant formula purchase of less than 500 yuan is tax-free).
According to the market survey, infant formula purchases rank second, accounting for 17 percent of the market share of overseas purchasing, superseded only by cosmetics purchases, which account for a 28 percent share of the market.
Due to the new policy, the sales pricing for formula through some online stores has increased by 10 percent, with the number of overseas purchases increasing dramatically during the last few days of August.
A Chinese mother calculated that under the new tax scheme, she needed to pay 114 yuan (approximately $36.70) extra per month to acquire six cans of New Zealand Karicare formula, a state-run Chinese media source reported.
In addition to the price hike, parents are particularly upset that the Chinese regime once again is emerging as part of the problem, not part of the solution.
"I don't dare to use domestic formula and cannot afford foreign formula. What am I supposed to do?" said one disgruntled parent.
In early August, Chinese media widely reported that infant girls appeared to be manifesting premature sexual development, including growing breasts and menstruation-like symptoms, with the suspected cause being growth hormone present in milk powder manufactured by Synutra, a leading infant formula manufacturer in China. (see: Parents Don't Believe 'Case closed' on Tainted Milk Powder)
China's Ministry of Health (MOH) was quick to declare on Aug. 15 that there was no evidence of a connection between the milk powder and breast development in infant girls. But unhealed wounds from a similar milk powder incident in 2008 and lack of transparency in the investigation process has left many suspicious and vigilant.
Official attempts to cover up the 2008 melamine-tainted milk powder scandal resulted in further erosion of the credibility of the communist party, compounded with the rejection of lawsuits filed in China by the families of victims.
Not long after the MOH announcement, the regime's Propaganda Department banned all media from associating Synutra's formula product line with the premature development in infant girls. (see: Tainted Milk Controversy Off Limits to Chinese Media)
The share of formula acquired through foreign sources for China's high-end formula market subsequently grew to 85 percent, up from 70 percent.