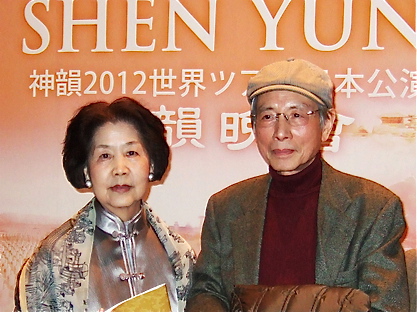 TOKYO—Shen Yun Performing Arts New York Company's debut performance at Tokyo's International Forum on Feb. 14 attracted audience members from all walks of life. When the curtain slowly began to fall at the end of the performance, the enthusiastic audience offered the Shen Yun performers hearty applause. The debut show had played to a full house, with more than 1,000 audience members enjoying the purity and beauty of traditional Chinese culture presented by the New York-based company.
Artist, Ms. Meng, who had seen Shen Yun once before, said: "I was deeply impressed by Shen Yun when I watched it the first time. This time, I learned that Shen Yun would perform in Tokyo via Broad Book, and I quickly brought two tickets in the front rows."
"It was perfect in art, technically, and content. It displayed wisdom and strength, and emitted very strong and positive energy. Only being as united as Shen Yun can we Chinese people have hope," Ms. Meng said.
"I appreciate that Shen Yun can inherit and carry forward the classical traditional Chinese culture." She continued, "Otherwise, the Chinese traditional culture would be completely lost. Thousands of years of Chinese culture has been severely trampled and ruined by the Chinese Communist Party. In China at present, it's hard to tell the truth. Whoever tells the truth is likely to be punished. So they can only tell lies. When lies are spoken everywhere, it unfortunately becomes the truth."
As a painter, Ms. Meng abundantly praised Shen Yun's animated backdrop. She said the scenes were very beautiful and the colors were bright and vivid. The backdrop cleverly represents the essence of classical traditional Chinese culture via modern high-technology, she said.
Commenting on the bel canto style solo vocalists in the performance, Ms. Meng said: "The skill of the tenors and sopranos was superb, and the lyrics represented the concept of questing bitterly in the darkness."
Ms. Meng praised the live accompaniment, saying: "It was really excellent. There are really a pool of talented people overseas. However, in today's China, no one can bring their talent into full play as in Shen Yun."
Ms. Meng's husband, Mr. Tsuchiya, was a Japanese orphan who grew up in China. He is also a painter. "What I want to say is the performance of Shen Yun is really great. It represents real Chinese culture to foreigners," Mr. Tsuchiya said.
He said that especially in the current society, foreigners who don't understand Chinese culture view the Chinese people as a yellow disaster; whenever any disgraceful thing happens, people will think it is done by the Chinese people. He said that is not real Chinese culture. "The real Chinese tradition strongly emphasizes morality and good deeds. The Chinese people in the past followed a sublime moral standard," Mr. Tsuchiya said.
Ms. Meng added that the ancient Chinese talked about behaving as a true human. Shen Yun brings traditional culture back to the world.
Reporting by Zhang Nini and Sunny Chao

New York-based Shen Yun Performing Arts has three touring companies that perform simultaneously around the world. Following performances in Japan, Shen Yun Performing Arts New York Company will continue on to top venues in Korea and Taiwan, followed by Australia and New Zealand.
For more information, visit ShenYunPerformingArts.org