The latest official to be sentenced for corruption in China has even more egregious crimes in his history.
Chinese leader Xi Jinping's anti-corruption campaign has snagged Wu Sha, the former police chief and party secretary for the Central Political and Legal Affairs Commission in Guangzhou City. On Dec. 22, Wu was sentenced to 10 years imprisonment for bribery, according to Guangzhou Cankao, a state-run publication in the southern Chinese metropolis.
The Chinese Communist Party's anti-corruption agency found him guilty of accepting bribes totaling 10 million yuan ($1.5 million), in addition to "exchanging money and sex for power" and gambling using fake IDs. The agency announced an investigation into Wu in Nov. 2015, just before he reached the official retirement age.  
Between 2003 to 2014, he also took plane flights for vacations abroad that were paid for by local companies.
Employed within the Party's security apparatus for more than a decade, Wu is also guilty of carrying out the persecution of Falun Gong, or Falun Dafa, a spiritual discipline that the Chinese regime has banned and violently suppressed since 1999. Based on Buddhist and Daoist moral teachings centered on truthfulness, compassion, and tolerance, the practice grew in popularity during the 1990s. A state survey estimated 70 million adherents by 1999, though Falun Gong practitioners put the number at 100 million.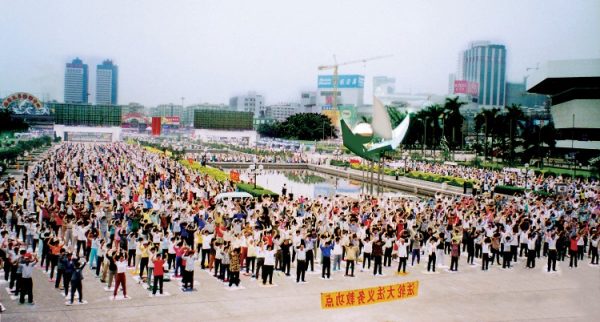 Perceiving its popularity to be a threat to the Party's ideology, former Party leader Jiang Zemin launched a nationwide persecution. Millions of practitioners have been arrested and detained, and subjected to torture, brainwashing, and forced labor while imprisoned, according to the Falun Dafa Information Center, the press office for Falun Gong.
Under Jiang's rule, the Central Political and Legal Affairs Commission became a powerful institution that oversaw all aspects of a local area's security apparatus. As head of this office in Guangzhou since 2006, Wu was in charge of rounding up local Falun Gong practitioners. During the same period, Wu was also the Guangzhou police chief.
Minghui.org, a U.S. based website that documents the persecution of Falun Gong in China, has evidence of several Guangzhou practitioners who faced persecution while Wu was in power. One couple, Ma Minqing and his wife Zheng Jie'er, were repeatedly harassed and chased by local police at Yuexiu District and had to live on the run. Zheng was abducted by police in July 2006 and sentenced to two years at the Chatou Labor Camp.
While Ma was out shopping in Oct. 2006, he was abducted by police and later sentenced to seven years imprisonment. He was detained at the Shihui County Prison.
In May 2007, Li Fangsong, a Falun Gong practitioner who worked as a party cadre in the Guangdong provincial public security office, was abducted by the local 610 Office, a Party organization created by Jiang Zemin specifically to persecute Falun Gong practitioners. Li was detained at a local brainwashing center, where practitioners are subjected to psychological abuse in an attempt to coerce them into giving up their faith.
The nonprofit, World Organization to Investigate the Persecution of Falun Gong (WOIPFG), also listed Wu Sha as a perpetrator of human rights crimes. In Nov. 2013, Zhao Tianrong, manager at a software company in Guangzhou, was abducted by police at his workplace. He was arrested for creating and distributing DVDs that detailed the persecution, according to Minghui.org. A show trial was held in May 2014. Two months later, Zhao received a sentence of four years imprisonment by the Shunde District Court. WOIPFG listed Wu as the main official responsible for Zhao's arrest and treatment.
Fang Xiao contributed to this report.