Chinese Official Seeks Asylum
October 28, 2006 12:00 am Last Updated: October 28, 2006 12:00 am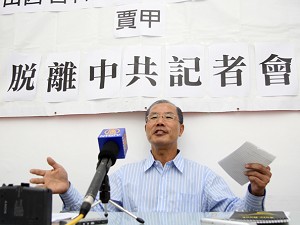 HONG KONG—A high-ranking official who defected from mainland China is calling for the disintegration of the Chinese Communist Party (CCP) and is seeking international support as he awaits his future in Hong Kong.
The Secretary General of the Science and Technology Association in Shanxi Province, Mr. Jia Jia, defected to Taiwan on Oct. 23 while traveling with a tourist group from Mainland China. But Taiwanese authorities denied him political asylum and proceeded to deport him to China via Hong Kong on Oct. 26, where he again made a request for political asylum.
At a press conference held in Hong Kong last Friday, Jia stated he is willing to move to any country willing to protect him, and that he wishes to continue his work to help China move toward democracy. Jia said he wishes to dedicate his life to dissolving the CCP. He said his reason for leaving China was his wish to publicly urge all Communist Party members to abandon and withdraw from the Party.
Jia also said he wanted to publicly testify as to the validity of The Epoch Times ' figures, which show that nearly 15 million people have publicly renounced their affiliation with the Party through online statements posted over the last two years.
"The fact that 14 million people have renounced the CCP makes me feel compelled to step out," Jia said.
"Many countries and many governments have refused to believe the reality behind the number and refuse to believe that such a campaign is indeed going on," he continued. "That's why I felt compelled to come out of China to let the public know the truth."
The "Quit the CCP" movement was sparked when The Epoch Times published its Nine Commentaries on the Communist Party, an expose of the Communist Party's history and culture that has gained popularity throughout mainland China and the Chinese diaspora. In early 2005, readers of the Nine Commentaries began posting online statements renouncing the Party on the Epoch Times Website.
Jia, who is staying in Hong Kong as a tourist, is not allowed to remain there past Friday. He hopes to be granted asylum so as not to face deportation back to China, where he believes he faces the prospect of being jailed and tortured. As of Wednesday, no government has offered him asylum.
Many Chinese 'Detest it to the Bone'
According to Jia, many Chinese people are moving against the CCP.
"I believe the number provided by the Quitting the CCP Service Center—14 million people—is real and reliable. In reality, [I believe] it is far less than the real number," Jia said.
"I think 95 percent of the CCP members wish to withdraw from the Party."
Jia said that the CCP Central Committee is afraid to either publicize or deny the withdrawal phenomenon.
"Let's assume Hu Jintao or He Guoqiang, the head of the Department of Organization of the CCP Central Committee, disagrees with me," Jia stated. "They hold a press conference to deny what I just said. Then we will have the opportunity to speak to people all over the world; to suggest that we set up our 'Quitting the CCP Service Center' right on Tiananmen Square and ask the 78 million CCP members in China to make a free choice with regards to whether they want to quit the CCP or not."
"We'll ask the United Nations to supervise the event to make sure there would be no persecution and everyone makes the choice based on his free will. Then we'll be able to count how few of them will remain in the Party."
Jia also pointed out that many CCP members are talking about the "Quit the CCP" movement, reading and passing around the Nine Commentaries in private.
"The Chinese people in the mainland detest the CCP, detest it to the bone," said Jia. "For us, there really isn't anything that can be more disgusting than the CCP."
"Think about this—if Hong Kong people were to watch only one drama, the theme of the drama being Karl Marx alone, for 57 years in a row, just like having one kind of dish for 57 years in a row, wouldn't that be enough to make you feel sick?"
Federal Government
Jia proposed that a federal government be established in China, urging present CCP officials to withdraw from the Party and reorganize themselves as federal officials. Jia also addressed concerns by many that such a change would be violent and cause upheaval.
"Without the CCP, China is bound to be stable, because all social unrest is caused by the CCP," he said. "The CCP is the root cause of all riots and social unrest."
Jia said he is not afraid that China would encounter riots if there is no CCP, because many people with great aspirations, just like him, will establish a new government.
Jia said he drew courage from the Chinese-language Epoch Times Website, which not only published the Nine Commentaries but has also extensively reported on the persecution of Falun Gong (Falun Dafa) practitioners in China.
"Those who have committed crimes are afraid of Falun Dafa. Those who are innocent all respect and love Falun Dafa. We all admire Falun Dafa," Jia said.
"We all know that the CCP is running amuck without any restraint and no one knows exactly how many people it has killed. The CCP has been persecuting Falun Gong for over seven years, but Falun Gong is still resisting and has not been defeated."