Chinese Official Lashes Out Over Wukan Incident
December 22, 2011 9:23 pm Last Updated: October 1, 2015 2:57 pm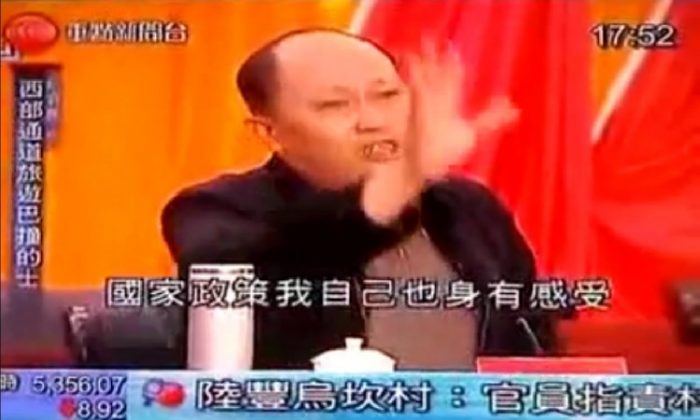 Visibly upset with the international media coverage and demands of residents in the recent Wukan incident, a Chinese Communist Party official has gone on the offensive, calling himself hard-done-by, the residents ungrateful, and foreign media meddling and untrustworthy.
The Shanwei Municipal Party Secretary Zheng Yanxiong says in the video, which was circulated widely before being purged by Chinese Internet censors, that "Well, what good can come from having me dismissed? They'll just send another Municipal Party Secretary here, and he may not be much better than Zheng Yanxiong [referring to himself]. Ha, this is a joke, but it also has truth to it," according to a translation on the blog Chinasmack, reviewed by The Epoch Times. The video, in Mandarin Chinese, is below.
It is not clear where Zheng made the remarks, but it appears to be have been at an official press conference. His response was carried as part of a news report screened in Guangdong.
Zheng appeared to make some concessions to the villager's claims that their land had been stolen, which led them to revolt against local authorities and set up their own village administration committees. "If compensation is necessary then there will be compensation, and the government will pay for it…" he said.
But there was also an ominous tone to most of his remarks, reflecting obvious frustration with the way the situation spiraled out of control as villagers took over their own affairs and foreign media had a field day. 
"If you don't make any more trouble, if you don't break the law again, and the government feels, 'Hey, [they're] reasonable, I think they won't use unreasonable methods again,' then I don't even have to use the armed police! You think deploying the armed police doesn't cost money?! There are hundreds of armed police and for the police to be stationed here means our mayor's wallet becomes thinner and thinner by the day, I'm telling you," he said, according to the Chinasmack translation.
It's Party officials who have it tough, Zheng said. "Right now there's only one group of people who feel each year is harder than the last. Who? Government cadres, including me. Municipal Party Secretaries never got this tired handling everything before. Every day my power is less, every day my methods are fewer, every day my responsibility is greater, and every day the people want more, they're smarter, and they're more difficult to deal with."
He appeared hurt that villagers had sought refuge in the spotlight of the foreign press, rather than turning to the Chinese Communist Party for help. "You don't look to a responsible government like this, instead you look to some rotten foreign media, rotten newspapers, rotten websites, completely confusing good and bad!" said Zheng, who was at this point in the video yelling and energetically raising his arms. 
"If you've got an issue, look to the government, don't invite foreigners to come and gossip," he concluded.
Villagers had been appealing to the Party for years about their land being expropriated—in vain.