On April 13, Shanghai Fosun Pharmaceutical Group (Fosun Pharma) announced that the first batch of Pfizer vaccines had arrived in China and clinical applications were to be strictly monitored by China's National Medical Products Administration (NMPA).  Many netizens planned to get the imported Pfizer vaccine, even at their own expense, foregoing the potentially free domestic vaccine.
The Pfizer vaccine was initially developed by the German company BioNTech. Pfizer partnered with BioNTech to support clinical trials, logistics, and manufacturing. Fosun Pharma, BioNTech's Chinese partner, was reportedly granted the right to market the vaccine in China, Hong Kong, Macao, and Taiwan.
The Chinese Communist Party (CCP) blocked news of the Pfizer vaccine's arrival as soon as it appeared on the internet.
The CCP Refuses to Announce Adverse Reactions to Domestic Vaccines
As of March 28, the CCP's official statistics show that more than 100 million doses of the Chinese vaccine have been administered in China, but no serious adverse reactions or deaths have been publicly reported.
On March 21, the Joint Prevention and Control Mechanism of the State Council of the CCP held a press conference. Wang Huaqing, chief expert in National Immunization Program of Chinese Center for Disease Control and Prevention was asked about the adverse reactions to domestic vaccines and whether data could be released to the public on a regular basis. He said that adverse reactions include pain, redness, swelling, and hard nodules, but explained that "the overall incidence of adverse reactions is relatively low" and that "no unusual cases have occurred."  He added that there are other relatively more common reactions such as headache, fatigue, and low fever but did not address the question on publishing relevant data.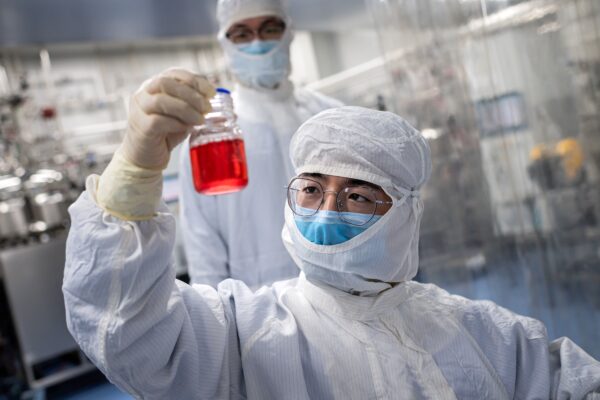 Wang's response sparked heated discussions among the Chinese public. Many people disclosed some of their reactions after receiving the vaccine, such as muscle ache, arm pain for several days, and sore throat.
Many Chinese Don't Want Domestic Vaccines
Many Chinese are afraid to get domestic vaccines because of the long-standing history of poor food and medicine safety in China and the lack of transparent information.
Mr. Wu, a resident of Wuhan, Hubei Province, told The Epoch Times that he does not want domestic vaccines.
"Because the efficacy of domestic vaccines are lower than that of European and American vaccines, there are many contraindications and possible adverse reactions. In addition, there is no protection for the rights of people who have serious adverse reactions to these vaccines, so it is difficult for people to receive them with confidence," Mr. Wu said.
Mr. Wu said his father is an official in the local system, but he "is also reluctant to get the vaccine because he thinks it is unnecessary and he is afraid that the vaccine is unsafe."
A retired official in Beijing told The Epoch Times that he didn't want the inoculation either. He's concerned about "adverse effects after the vaccination, such as disability or death in a few days after the vaccination, or any sequelae. I don't dare to have the jab. The general public has this concern (of side effects), and so do I myself," he said.
The CCP Turned Vaccination Into a Political Task
In China, the vaccination of the CCP virus, commonly known as the novel coronavirus, has changed from voluntary to mandatory and has become a political task in state-owned enterprises, with pressure and incentives at different levels. The CCP's official media has also launched a propaganda campaign, calling on everyone to get vaccinated.
To accomplish this political task, many places have adopted incentive measures, with giving out eggs to people taking the vaccination being the most common, and a cash incentive of $15 to $30 offered in some areas. Some of the neighborhood communities in Beijing offer perks such as entrance tickets to Yonghe Palace, holidays, or better annual performance assessments.
In addition, vaccine recipients are required to sign confidentiality agreements and are prohibited from disclosing vaccination information.
In response, many people commented online that, in order to help Chinese people have confidence in domestic vaccines, "the leaders should be administered (with domestic vaccines) first."
Massive Exports of China's Domestic Vaccines Continually Receive Negative Reviews
The CCP has been engaged in vaccine diplomacy and has been supplying domestic vaccines to a number of countries around the world, but this effort is continually met with negative news.
Celestino Aos, the archbishop of Santiago, Chile, and auxiliary bishop Alberto Lorenzelli both tested positive for the CCP virus after receiving two doses of Sinovac, one of the front-runner Chinese vaccines, the Chilean Roman Catholic Church said in a Twitter post on April 10.
On April 7, the Philippine Presidential Security Group (PSG) commander Brig. Gen. Jesus Durante III confirmed that 126 PSG staff had tested positive for the CCP virus after receiving Sinopharm's inactivated vaccine.
In Hong Kong, 14 people have died after receiving the Sinovac vaccine since the roll-out of the vaccination on Feb. 26, and many others have suffered facial paralysis and strokes. In other countries that received the Chinese vaccine, such as Chile, Turkey, and Pakistan, the number of positive CCP virus cases has increased rather than decreased.
CCP's History of Faulty Vaccines
As early as 2010, China Economic Times, a CCP official daily newspaper, reported that hundreds of children in Shanxi Province had died or fallen ill from the side effects of vaccines over a three-year period. The Shanxi provincial government not only denied that the vaccines were faulty but also dismissed the editor who exposed the incident.
In 2016, an illegal vaccine case in Shandong Province was exposed. Vaccines worth about $88 million, containing 25 types of improperly stored or expired Category 2 vaccines for children and adults, were sold nationwide.
On Oct. 29, 2017, the CCP's Food and Drug Administration (CFDA) recalled two batches of hundreds of thousands of doses of DPT vaccines (a combination of diphtheria, tetanus, and pertussis vaccine) produced by Changsheng Bio-Technology that had not been tested for efficacy. However, the incident was concealed by the CCP and only came to light nine months later. An official investigation by the CCP revealed that the company had been producing fake rabies vaccines since April 2014.
In November 2017, Wuhan Institute of Biological Products (WIBP) sold 400,520 doses of substandard DPT vaccines to Chongqing City and Hebei Province.
During this wave of illegal vaccines, Changsheng halted production and more than a dozen executives and major shareholders were arrested. WIBP, which is affiliated with the central enterprise (large state-owned enterprises directly supervised by the CCP's central government), received "administrative punishment" and resumed production later. WIBP's senior executives and major shareholders have not been arrested.