A Chinese national in Ukraine strongly rebuked his fellow countrymen for embracing Russian leader Vladimir Putin's invasion of his host nation amid a deepening humanitarian crisis.
Odessa-based Chinese citizen Wang Jixian, a young entrepreneur and programmer, posted on social media his first-hand news of the affected area where he lives. However, his posts drew a flood of pushback from pro-Putin mainland Chinese.
In their messages, his critics claimed that there are justifications for Putin's action in Ukraine, which they called a "self-defense" war. Meanwhile, they described Wang as China's traitor and Ukrainians as terrorists. Some said Americans had given him money and instructed him to release anti-Putin posts.
In the nationalistic context fueled by the Chinese communist regime, domestic citizens call Putin a hero for confronting the United States. They rave about Russia's invasion of Ukraine on social media; some rush to buy Russian products online to prop up Russia's sanction-hit economy.
China has a long-term partnership with Russia, considering it a close political ally against U.S.-led democracies. Chinese foreign minister Wang Yi told reporters on March 7 that the prospects for China-Russia cooperation are broad and that both sides will continue to "power an all-out strategic partnership no matter how sinister the international situation will be."
'Hopefully You'll Be on the Side of Lives'
"Why are you so incredibly happy when Putin sends his troops coming here and firing?" the Beijing-born man questioned his critics on his YouTube channel. "Pray tell me: is there any country that launches a self-defense war at another country's capital?"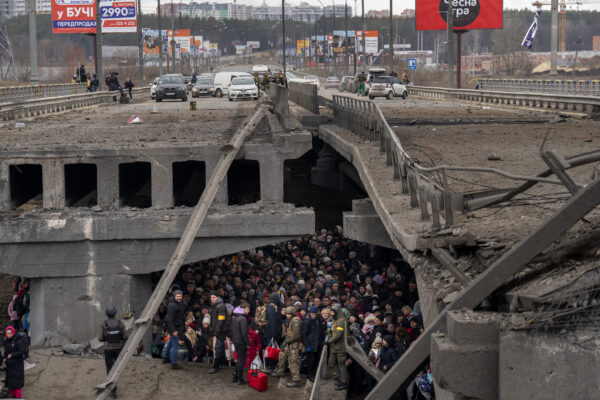 Wang noted that some of his Russian colleagues aren't big supporters of Putin and that the Russian leader cannot represent all Russians. He challenged his critics back in China, "Do you guys support Putin more than Russians?"
Moreover, he dismissed the accusation of him receiving financial benefits from Americans. He said he cared nothing about money because his life could come to a full stop tomorrow.
As a resident on war-torn soil, Wang hit back any theories that place political claims ahead of human lives.
"As humans, we should respect lives first of all," he said. "We have a right to live. We are not scary but angry. We worked and lived as normal but missiles were flying at us! Just near my office! Whichever side you guys take, hopefully you'll be on the side of lives. Regular citizens don't want war."
In his videos. Wang, in tears, told stories of residents that stayed, including a Chinese young man who was killed by Russian soldiers in another city, a local elderly woman who was blown apart by a Russian bomb when she was out emptying garbage, and uncles and aunts who walked toward looming Russian tanks to block their advance with their bodies. He said he has taken pictures of horrific scenes.
He also said that he donated money to the Ukraine defense troops, who he said are protecting his life.
To erase doubts about his identity, Wang showed his Chinese passport and his local resident document.
As of midnight on March 6, 2022 local time, the Russian invasion has claimed 406 civilians, including 15 children, and injured 801 Ukraine citizens since it started on Feb. 24, according to the U.N. human rights office.