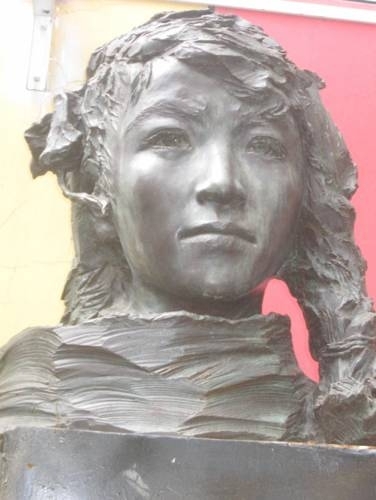 Sunday, April 29 marked the 44th anniversary of the death of Lin Zhao, a talented Peking University student who was secretly executed for speaking out against the Chinese Communist Party (CCP) during the notorious Hundred Flowers Movement of 1957 launched by Mao Zedong. 
More than 100 people paid homage to her tomb without encountering interference, and the many memorials commemorating her on the Internet have not been censored. The usual Baidu search engine ban was lifted and even searching, "Lin Zhao's letter in blood" could be accessed.
On Sina Weibo, China's largest microblog, the well-known blogger Han Han posted, "On April 29, 1968, Lin Zhao was secretly shot to death. Most of my young friends do not even know her name. Life is short but freedom is priceless. History has exonerated her, but history has received her 5-cent bullet fee. Let the bullet fly on." The message was forwarded more than 30,000 times.
Hong Kong author Wu Yisan said in an interview with Radio Free Asia that Lin Zhao's life and death are highly significant. "First, she was a Peking University student; second, she is a woman who stood up to the regime. She initially was quite obsessed with Mao-ism and communism. But when she awakened she persisted to the end in speaking out against the regime. She opposed despotism, Mao's personality cult, and the CCP's authoritarian one-party rule. She would rather die than yield – her actions are very important, significant and touching, especially the hundreds of poems and letters she left behind – written in her own blood. The communist party's persecution of her was very cruel, beyond description."
It was reported earlier that Ouyang Jinhua, a 70-year-old rights activist from Hunan Province had tried to pay his respects at her tomb in Suzhou, but was detained by National Security agents. Later, he told RFA he thinks the apparently different policies being pursued at Lin Zhao's anniversary is the result of high-level political struggle currently taking place.
chinareports@epochtimes.com