Chinese Mother for Years Told Daughter She Was Adopted, to Teach Her Independence
September 12, 2013 1:30 pm Last Updated: September 13, 2013 10:22 am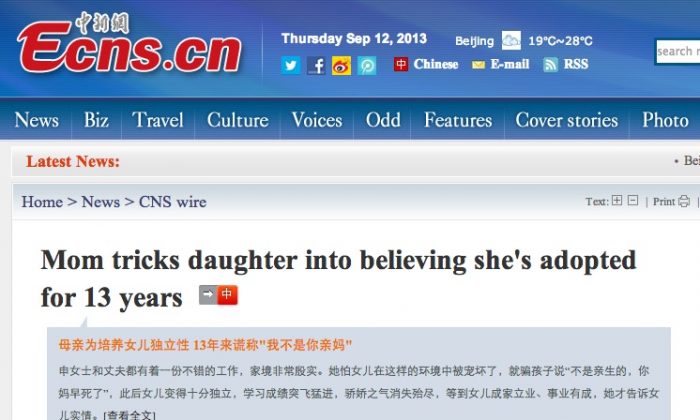 A woman in northeast China tricked her daughter into believing she was adopted for 13 years, to stop her from becoming a spoiled rich kid.
Ms. Shen is married to a wealthy man in Shenyang City, and they have a daughter called Cheng Cheng, according to Shenyang Evening News.
When Cheng Cheng was at primary school, her mother was worried that she was turning into a brat, so she decided to lie to her, and force the girl to be more humble.
"Your real mother died a long time ago," Shen told Cheng Cheng, according to the newspaper. "I'm not your real mother. I'll provide for your education until you finish university, but don't expect any help after that."
The ruse paid off: Cheng Cheng worked hard, and got good grades at school. She entered Dalian Jiaotong University with multiple scholarships, and ended up getting a job in Shanghai with a software company.
Ms. Shen decided to reveal the truth to Cheng Cheng this year, after she got married. The mother told the newspaper that she has no regrets and is proud of her daughter's achievements. "Some people may not agree with my methods, but if I had not motivated her, she would have been satisfied with her life and would not be where she is now," she said.
An article in China Review News ran comments from people who questioned Ms. Shen's approach to motherhood.
A graduate called Xiao Wang put herself in the daughter's shoes. "Maternal love is irreplaceable for a child. Cheng Cheng may be successful now, but being lied to by her mother for so long will probably leave an emotional scar."
Psychologist Huang Yu added, "It's important to teach a child to be independent, but Ms. Shen's methods do not apply to every family. We should also be concerned about a child's spiritual growth, not just academic performance."