Chinese Mistrust State TV's Claim to Reform Itself
September 27, 2011 3:55 pm Last Updated: October 1, 2015 3:32 pm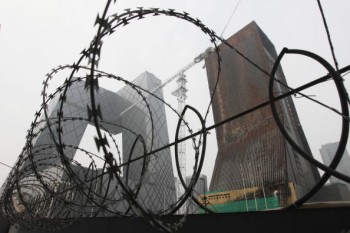 Faced with a growing public credibility crisis, the Chinese Communist Party's mouthpiece China Central Television (CCTV) says it will "reformat" one of its primary news programs to be more in touch with the lives and livelihoods of common people. But Chinese people think that's beyond the realm of probability.
CCTV, one of the main organs used by the communist regime to disseminate Party propaganda and shape public opinion, is planning to make a change to its primary evening news program "Xinwen Lianbo" next year by increasing coverage of common people's lives, Chinese media reported on Sept. 21.
Although the news program is aired daily by most mainland TV channels, many Chinese say they have stopped watching it years ago; as it is controlled by the communist Party they have no trust in its reporting.
"The Chinese Communist Party (CCP) always says one thing and does another," Mr. Li, a rights activist from Hubei Province, told The Epoch Times.
"What it proclaims as being of concern to people's lives is only to maintain its rule," Li said.
Li said the CCP passed a constitution when it established its rule in 1949, but hasn't carried out any rights that the constitution grants to the people, such as freedom of assembly and association.
"Which assembly or association has been allowed?" Li asked.
Chinese people who know how to circumvent the Internet blockade and who are frequently on the Internet get more information and know what to think, Li said. "When people have normal thinking, they come to their own conclusions. They will not be swayed by the CCP's propaganda," he added.
Party Propaganda
"People just laughed when CCTV talked about 'increasing concern for people's livelihood.' No one believes that." Mr. Zhang from Wuxi City, Jiangsu Province, told The Epoch Times.
"CCTV is controlled by the Party's Propaganda Department. Can CCTV be a real media, acting in the public's interest, and no longer be the Party's mouthpiece–even ghosts wouldn't believe that." Zhang said.
"The program, most certainly, will be adjusted for financial effect," Zhang said. "It will reform in terms of selling ads, that's for sure. As for monitoring and serving public opinion, that won't happen unless the CCP collapses."
Li said he used to watch Hong Kong based Phoenix Television, but after reading more on the Internet, he found that Phoenix Television is actually an overseas version of CCTV.
"Now I don't watch any TV. I basically get information on the Internet," Li said.
Happy as Death
On Sohu, a major Chinese news website, 20,649 people posted comments to the announced reformatting of CCTV's Xinwen Lianbo news program, the majority being skeptical.
zb197105 said, "Xinwen Lianbo should be abolished, but not reformatted! Thank you."
Park Freedom said: "I haven't watched Xinwen Lianbo for a long time. Watching it makes one happy as death, but it's painful as death when coming back to reality."
Flowers Robbery said: "I watched it every evening in the past. Now I watch it occasionally. I watch and listen to it with a reversed meaning."
Read the original Chinese article.