Chinese Military Officially Shifts Focus to Cyberwarfare and Space Warfare
June 26, 2015 4:48 pm Last Updated: June 30, 2015 3:43 pm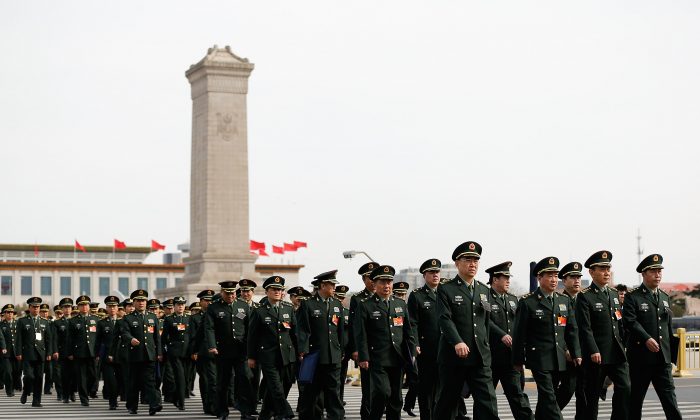 In the Chinese regime's first official military guidelines under its current leader, Xi Jinping, it shifted its focus to "winning informationized local wars."
In the new strategy, "Space and cyber domains are described as becoming the 'commanding heights of strategic competition,'" according to a June 23 report by M. Taylor Fravel, an analyst of the Chinese military, published on The Jamestown Foundation website, a Washington-based think tank.
Under the new changes, information technology will play a larger role "in all aspects of military operations" for the Chinese regime's military, according to Fravel.
The strategy comes directly from the top. Under it, Fravel states, the Chinese Communist Party's (CCP) Central Military Commission gives guidance "for all aspects of the People's Liberation Army's (PLA) combat-related activities."
Changes like this don't come often.
The PLA's new defense white paper, "China's Military Strategy," was released in May 2015. The Chinese regime has only issued eight of these strategic guidelines since it took power in 1949.
The strategic guidelines act as the "core and collected embodiment of military strategy" for the Chinese regime, according to a PLA glossary cited in The Jamestown Foundation report. It includes "the program and principles for planning and guiding the overall situation of war in a given period."
The CCP's military changes these guidelines when it believes the nature or focus of its conflicts have shifted.
The changes to the guiding strategy are subtle. The previous guidelines from December 2004 called for "winning local wars under the conditions of informationization." The new guidelines remove the "under the conditions" part and boil it down to "winning informationized local wars."
This represents a direct focus on the CCP actually using information warfare, as opposed to it just fighting "under the conditions" of information warfare.
Fravel describes the recent shift by surveying recent history, and illustrating how the PLA has increasingly began to focus more heavily on high technology.
When former Party leader Jiang Zemin introduced the January 1993 strategy, he said the PLA "must place the basis of preparations for military struggle on winning local wars that might occur under modern especially high-technology conditions."
When Jiang introduced the 2004 strategy, Fravel notes he replaced the "under modern especially high technology conditions" line with "under the conditions of informationization."
According to Fravel, the 2004 change "reflected the assessment that 'the basic characteristic of high-technology warfare is informationized warfare. Informationized warfare will become the basic form of warfare in the 21st century.'"
In the new strategy, Fravel states, the CCP has assessed "that the form of war has changed," with cyberdomain and space domain, and the use of unmanned weapons, becoming its key areas of focus.
He cites a May 26 report from Chinese state-run news outlet Global Times, stating "information is no longer an important condition [in warfare] but now plays a dominant role, presenting new changes in the mechanisms for winning wars."