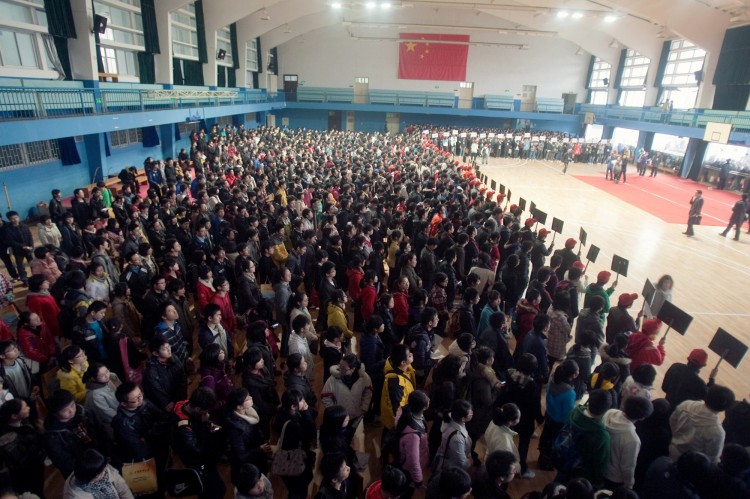 New residency and work requirements for migrant workers make it harder for their children to go to college. 
China has a system of residential permits, called hukou, which prevents Chinese citizens from moving their residence freely. Migrant workers are especially affected by the hukou system in that it often causes difficulties for them getting their children educated. The obstacles they face may now become bigger.
On Sept. 6, Minister of Education Yuan Guirong announced three conditions that the children of migrant workers without residential permits must meet in order to participate in college entrance exams. 
One, parents must live with the student and must have stable jobs, stable residences, and stable incomes. They also must pay various types of insurance and reside there for more than six months of the year. 
Two, the student must have studied in the local jurisdiction. 
Three, the occupation of their migrant worker parents must be in demand in the jurisdiction in question.
New Injustice
Public opinion was divided over whether college entrance exams should be open to students without residential permits. Those against it were concerned that students from other cities or provinces would take away the limited number of available spaces allocated to a certain province. At the same time, education experts said that the new regulations would create an artificially high bar for students without residential permits. 
Deputy Director Zhang Yudong from the Nanjing Foreign Language School Xianlin Campus in Jiangsu Province said that the three conditions are too strict, especially the last one. He said that it would create a new barrier and new injustice.
"It's difficult to say which professions are in demand," Zhang told the Jinling Evening News. "If the students moved with the parents to the city, it means the parents' jobs are needed by the city." 
In any case, the government should not use the parents' profession as a criterion for whether the student can receive an education, Zhang said. 
Furthermore, opening up the college entrance exam would not only facilitate migration, but also balance educational opportunities across jurisdictions, he said. Right now, because of government policy, most of the students at his school are from Jiangsu Province. There are very few students from other provinces. The few that are from other provinces usually move back to their hometowns prior to the college exams, and some students even move during their junior year in high school in order to conform to local regulations regarding college entrance exams. Other students give up on the exams altogether, Zhang said. 
Mr. Wang and his wife are from Linzi, Shandong Province. They have been living and working in Nanjing for many years. Wang said he knows many people whose children have given up on taking the exams. 
"If my daughter can't participate in the exams in Nanjing, she will definitely move back to Shandong during her senior year. I plan to ask my wife to accompany her and take care of her," Wang told Jinling Evening News. 
Mainland China-based writer Wu Shuping said: "No doubt this is the most bizarre situation I've ever seen. I wonder who determines what professions are in demand? Is it determined by the market? By the government? What criteria are used?"
Last year, 15 scholars and social activists filed a joint petition with the State Council, calling for an end to the limitations on college entrance exams based on one's residential permit. The petition listed all of the barriers migrant high school students face in China. 
Retired Professor Su Wenguang of Shandong University told The Epoch Times that for many years, some intellectuals have appealed to cancel the restrictions on college entrance exams based on residential permits. 
"The exams ought to be fair and equally applied to everyone. Why does the residential permit, which has existed for over 50 years, still exist?" he asked. 
Sun said, in his opinion, the permit only serves to protect the special privilege of the elite class. The children of high-level government officials all live in big cities. They benefit from the system by having better access to universities and good jobs. 
Read the original Chinese article.
The Epoch Times publishes in 35 countries and in 19 languages. Subscribe to our e-newsletter.
Click www.ept.ms/ccp-crisis to read about the most recent developments in the ongoing crisis within the Chinese communist regime. In this special topic, we provide readers with the necessary context to understand the situation. Get the RSS feed. Who are the Major Players?