Asian elephants in Burma are being poached at an alarming rate—all to meet soaringdemand for the animal's skin in China, where it's considered a potent traditional medicine.
"Elephant skins? Give me four hours, and I'll get you anything from the hunters in the jungle," a shopkeeper at a pharmacy in Kyaikto, a town in southeastern Burma (also known as Myanmar), according to a Sept. 11 article in the English-language newspaper The Myanmar Times.
The plight of Asian elephants, listed as an endangered species by the International Union for Conservation of Nature (IUCN), is detailed in an April report published by Elephant Family, a U.K.-based NGO that is dedicated to the protection of the animals. The NGO conducted a field investigation in Burma and China to compile the report.
Elephant skin is a traditional Chinese medicine ingredient that's considered to have high therapeutic potency. According to the Chinese search engine Baidu, elephant skin can be used as a cure for gastritis and ulcers, and can facilitate skin and muscle regrowth. According to the report, elephant skin can also be shaped into beads to make bracelets and necklaces.
The number of Asian elephant carcasses found in the wild in Burma reveals a disturbing trend since 2012, according to the report. Before 2012, the average number of dead elephantsfound was less than 10 annually; however, the number jumped to 26 in 2013, followed by 61 in 2016.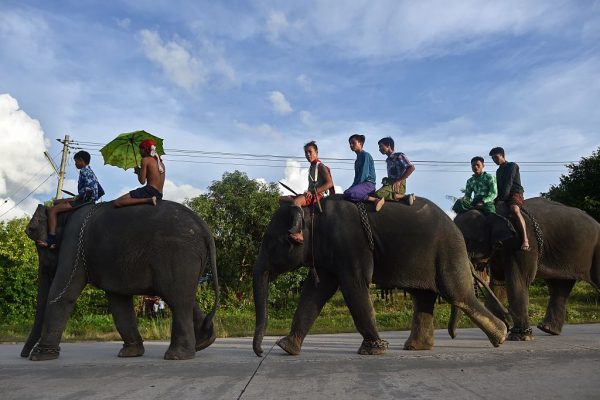 Coinciding with the alarming increase of dead elephants has been the growing discussion on Chinese social media about the availability of Asian elephant skin. It's typically sold online in three different forms: skin pieces, powder, and beads, according to the report. In 2018, elephant skin products were spotted by Elephant Family investigatorsat local markets inthree Chinese provinces—Yunnan in southwestern China, and Fujian and Guangdong in southeastern China.
In Burma, the average price for elephant skin pieces is 660 yuan (about $96) per kilogram (2.2 pounds). The same skin pieces are sold for an average of 1,800 yuan (about $262) in Guangzhou, the capital of Guangdong.
The sales of elephant skin products aren't limited to just social media. Chinese pharmaceutical companies also advertise medicine containing Asian elephant skin, which is sold legally sinceChina's State Forestry Administration has issued licenses for the manufacture and sales of such pharmaceutical products, according to the report.

Nicholas Cox, conservation director of the World Wildlife Fund's Burma office, warned, "If it becomes difficult [to kill elephants in Burma], then they [the poachers] will go somewhere else," according to The Myanmar Times.
According to the report, the estimated population of Asian elephants is 30,000 to 50,000, either living in the wild or bred under captivity in 13 different countries, including Burma, Sri Lanka, Thailand, and India.
A search on Chinese online wholesale marketplace 1688.com, which is operated by Chinese e-commerce giant Alibaba, revealed many online store vendors peddling beads made of elephant skin.
In August, China's state-run media The Paper reported that in Mong La, a town in northern Burma, there are many Chinese traders who engage in the illicitsale of elephant skins.