Chinese Media Silent On Latest Bird Flu Outbreaks
October 26, 2005 12:00 am Last Updated: August 21, 2015 6:55 pm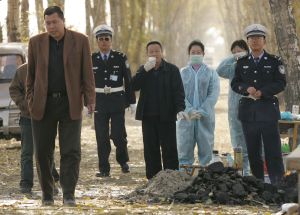 BEIJING – The deadly bird flu virus has been dominating headlines around the world, but China&#039s own home-grown outbreaks remain largely taboo in the country&#039s state-controlled media.
China's media has been mostly silent, showing limits to its transparency that could affect efforts to curb the disease.
The country has grappled with at least six outbreaks in as many months of the H5N1 strain that scientists fear will mutate into a human pandemic. Two occurred in the last two days, in the eastern province of Anhui and the central province of Hunan.
But there was no buzz about bird flu in Beijing&#039s streets.
"I think there has been bird flu in some southern places," said 25-year-old Zhang Ning, naming two provinces that have not been affected. "But I haven&#039t seen anything on TV."
"If there was a big outbreak I&#039m sure they&#039d report it," said her friend Haibin, an accountant.
On being told there in fact have been outbreaks in the past week that resulted in at least 545 chickens and ducks dying in Hunan and 550 farm geese dying in Anhui, the friends laughed.
"In China this kind of information is always blocked," said Zhang.
China has preached a mantra of openness and accountability since it was widely criticised for its cover-up of the SARS virus, which contributed to the disease&#039s eventual spread to 8,000 people around the world.
CCP leader Hu Jintao responded by sacking top officials, raising hopes the government would be more open about sharing information with its citizens.
"Information disclosure must be transparent to ensure public confidence in the authorities," the state-run China Daily said in an editorial.
Blissfully Unaware
But the English-language newspaper was alone among Beijing&#039s main newspapers in reporting China&#039s latest bird flu outbreaks.
A spokeswoman for the State Council Information Office surnamed Xi declined to comment on why the story was not carried in most media, adding the Hunan outbreak was reported in the Agricultural Daily.
The two paragraph story ran on page four.
But an editor with a central daily said newspapers had been told not to report any more than instructed and that reports were being vetted by authorities.
"The main concern is fear of … social panic reducing farmers&#039 incomes," the editor said.
"Ordinary people have so little confidence in food safety, the agricultural officials are afraid specific reports would set off a panic."
Scientists say a well-informed public could help combat the spread of the disease.
"The general public should know basic information about hygiene and cleanliness — regular washing of hands, avoiding close prolonged contact with sick poultry and ways to deal with poultry that have died unusually," said Aphaluck Bhatiasevi, spokeswoman for the World Health Organisation in Beijing.
So far Beijing residents remain blissfully unaware.
"There&#039s no bird flu in China," said a pedestrian surnamed Liu. "Not for the past half a year already. We have no problems with that."