Chinese Man Sets New World Record in Bungee Jumping
December 22, 2006 12:00 am Last Updated: December 22, 2006 12:00 am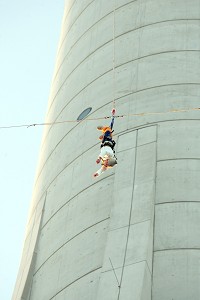 On December 17, 2006, Chen Guanxi and the father of bungee jumping AJ Hackett jointly challenged the Guinness World Record in Macao. They both successively jumped from a 233-meter-high platform on the Macao Travel Tower. After Chen's successful first jump, he immediately sent a short message to his girlfriend Vincy to report his safe landing. Chen Guanxi made the first jump for the new Guinness World Record. He jumped from a height of 233 meters and rebounded 30 meters from the ground. Hackett rebounded 14 meters from the ground. The total height was 219 meters, which broke his own world record set in 1998. The two records set by Chen and Hackett will be entered into the Guinness Book of World Records. Chen's parents and sister, Chen Jianfei, also came to Macao to encourage him. But Chen's girlfriend didn't attend the attempt. Chen's father Chen Zemin said he was proud of his son's brave jump.
Chen joked prior to jumping, "I don't want to be afraid. Once I think of fear, I dare not to jump. If I can't jump, I will lose a lot of face. No matter what, the jumping with AJ takes only takes five seconds."

Three million dollars of insurance was purchased for Chen. Afterwards he admitted that his feet were shaking when he was standing atop the platform. He also screamed," I love you, Dad and Mom" prior to jumping. After his successful jump, he screamed red-faced, " I feel great."
Immediately he sent a short message to his girlfriend to report his safe landing. When asked whether he would jump on his wedding day, he joked that his girlfriend would not be willing to. He hoped that their wedding could be held on a small island.