A holdup before a bilateral meeting between Chinese leader Xi Jinping and Japanese Prime Minister Shinzo Abe on the eve of the G-20 Summit left the former in an awkward position.
Xi was photographed on June 27 cutting a lonely figure on the Chinese side of the meeting table, with his delegation nowhere in sight, as he faced a fully-seated Japanese delegation led by Abe on the opposite end.
Footage from the event shows Xi and Abe entering the room together before engaging in a customary handshake for the cameras. They then walked to their respective seats on the table. While Abe was flanked by his entire delegation, only one other Chinese delegate was seated at the table as Xi took his spot.
A few moments later, more members of the Chinese delegation started trickling in. Eventually, all of them were seated.
It is unclear what caused the delay.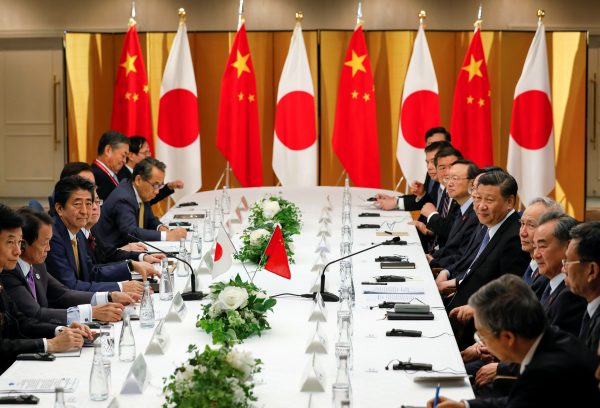 This is not the first time Xi has been left flying solo at the start of a meeting with a fellow head-of-state.
In 2017, a short delay left Xi facing Russian President Vladimir Putin and his 7-member delegation on his lonesome, during a meeting on the sidelines of the Shanghai Cooperation Organization summit in Astana, Kazakhstan. The situation prompted Putin to jokingly describe his Chinese counterpart as a "lone warrior."
Xi is set to meet President Donald Trump at 11:30 a.m. local time on June 29, in a highly anticipated meeting that many hope will result in a trade truce between the world's two largest economies.
Tensions between the two countries escalated following a breakdown in trade talks in early May, when the U.S. administration accused the Chinese regime of backtracking on commitments negotiated over months of talks.
Trump responded by raising tariffs on $200 billion of Chinese goods and has threatened to impose tariffs on an additional $325 billion. The president has said the results of his G-20 meeting with Xi will determine whether he goes ahead with the further tariffs.