Lawyers Give Legal Claims Guide to Tainted Milk Victims
September 28, 2008 12:56 am Last Updated: September 28, 2008 3:52 am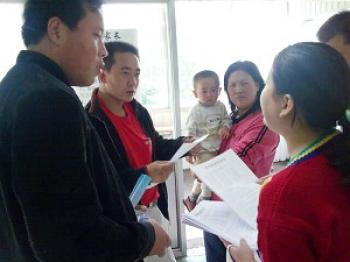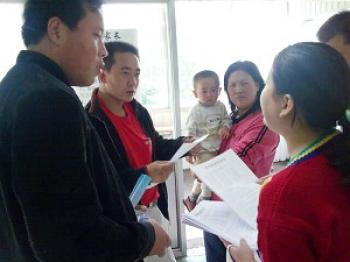 CHINA, Beijing—Over 100 lawyers volunteered to provide free legal assistance to victims' parents to file legal claims, because of kidney stone complications caused by Sanlu milk. They started giving out guides, which were based on current laws in China on September 26.
On September 26 and 27, lawyers and volunteers in Beijing were giving out a Guide to Claim Losses from Sanlu Milk to parents at the Beijing Children's Hospital and answer their questions. Parents bringing their children to the Hospital to have health checks overcrowded the hospital. There was a long line of patients waiting to have B-ultrasound scans.

Children with mild kidney stone symptoms were sent home and continue to be monitored. Those with severe symptoms were hospitalized immediately. Most parents were not allowed to stay with their children at the hospital, except for the mothers still nursing- who were allowed to see their babies twice a day.
Some parents whose children were hospitalized came long distances. They slept in the hallways at the hospital for lack of lodging.
A child from Hunan Province had been hospitalized four times since June, and the parents had already spent over 30,000 yuan (approximately US$ 4,400). There was a couple from Shandong Province with one-year-old twins who had been fed with Sanlu Milk since birth. Currently one of the twins was seriously ill and hospitalized; the other one was sent home for further observation.
Though the regime recently passed a policy to provide free treatment for these children, their parents must still pay 100 yuan daily for the hospital bed (approximately US$15).
Most parents, though in despair, became positive upon learning there are volunteer lawyers providing legal assistance and they spontaneously spread the news.