An official notice encouraging children to promote vaccine use among elderly relatives that was published by a district educational body of China's Beihai City on July 6 has triggered widespread criticism among Chinese netizens.
The online notice, titled "A Special Summer Vacation Homework Assignment," requires young students, including kindergarten children, "to motivate paternal and maternal grandparents of 60 and above to take their first COVID jab successfully."
Children will be awarded "a merit certificate and a nice small gift" by their teachers when going back to school or their kindergarten in the coming semester upon presenting their grandparents' vaccination certificate, the notice by the Haicheng District educational body reads.
The post has since been removed from the educational body's official social media account but is still visible online in reposts by netizens.
The notice is part of recent efforts by Beihai city's health committee to have local seniors jabbed since April, according to a report on China's news portal Sohu. The health committee encouraged seniors to take their first COVID jab by offering them a free physical check which was worth roughly the equivalent of $37, as the health committee aims "to ensure that the first-dose vaccination rate of 91.2 percent of the elderly over 60 years old is completed by the end of July this year," reported Sohu's article.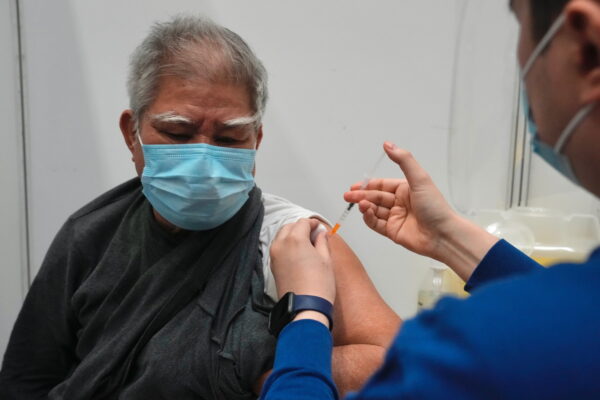 Beihai is a coastal city in the south of China's southwestern Guangxi region bordering Vietnam on its southwestern borderline.
The July official notice also includes $15 cash or shopping coupons of equal value to seniors who have taken their first COVID vaccine.
Chinese authorities at all levels have been reportedly using various tactics to coerce residents to take COVID-19 vaccines produced by domestic manufacturers, including cash stimulus.
The Epoch Times has reached out to the Beihai health commission and the Haicheng educational body but did not receive a reply as of press time.
Children Are 'Tools'
Netizens expressed their outrage at the notice before it was removed by saying that children are now held as "hostages" by local authorities.
"Children are hostages and can bind six adults [parents and grandparents]," one netizen wrote, stating that children are "a new generation of stability maintenance tools." The netizen was also worried that the child might have a lifetime psychological burden if an older adult is affected by an adverse vaccine reaction.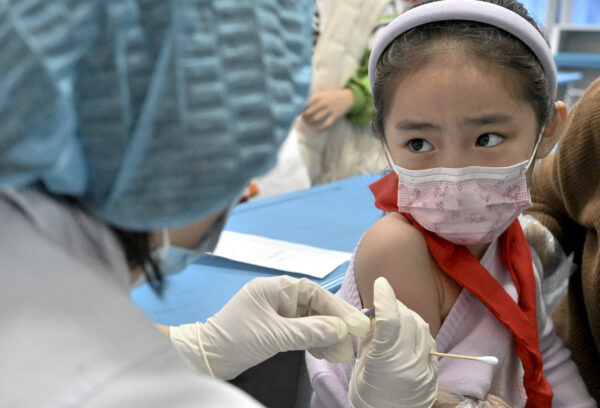 "The government claims vaccination is voluntary to the public, but it has a rigid vaccination goal internally," another netizen wrote.
The netizen said in the post that his uncle's little daughter, a primary school pupil, was required by her school to have 10 adults vaccinated and therefore coerced the netizen's parents to be vaccinated. "I was mad at hearing this. It is so true that netizens say they have given birth to a hostage," the netizen wrote.
Netizens are doubtful about the efficacy of Chinese domestically manufactured vaccines.
"If the vaccines are effective, is it still necessary to lock down the city?" a Beijing netizen asked in a post responding to an article on July 7 on NetEase, a popular Chinese news outlet, which reported a rural community committee in Beijing threatening to remove seniors' eligibility for orchard dividends plus other welfare and benefits if they don't take the COVID-19 vaccines.
As of July 11, a total of 3.4 billion doses of COVID-19 vaccines have been administered across the country to a population of 1.4 billion, according to China's National Health Commission, the top health body in the country. As for people over 60, 86.23 percent have received one dose of the vaccine and 81.67 percent have received the full regimen of doses as of May 5.
Although China says it has achieved widespread immunization, the Chinese Communist Party (CCP) still insists on maintaining its harsh zero-COVID policy, even in cities like Shanghai and Beijing, each of which has over 20 million residents.
Li Jing contributed to the article.