Chinese Internet User Population Reaches 210 Million
January 20, 2008 12:00 am Last Updated: January 20, 2008 12:00 am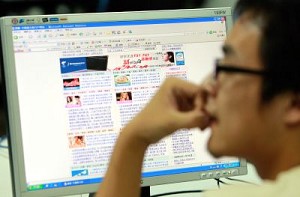 On January 17, 2008, the China Internet Network Information Center (CNNIC) issued its 21st Statistical Survey Report on the Internet Development in China . The report revealed that at 210 million, mainland China has the second highest Internet user population in the world.
Currently, the United States has the largest Internet user population in the world at 215 million, or 5 million more than that of China. Furthermore the CNNIC predicted that in 2008, China will have the largest Internet user population.
Rural Population—Important Group of Internet Users
For the first time the report provided a detailed break down of the classes of Internet users in mainland China. Amongst the Internet population in 2007, the rising trend in Internet users from various social levels is very apparent. Specifically the growth in users aged under 18 and over 30 is bigger than any other age group. Internet users educated at junior high school level and under are also increasing faster than other social groups; more and more low-income earners are starting to get in touch with the Internet.
The report also indicated that the rapidly growing Internet users from rural areas had become an important part of the total population, accounting for 40 percent of the current newly increased Internet population of 73 million in 2007. As at the end of December 2007, the total Internet users from rural areas have reached 52.26 million; the growth rate being 127.7 percent.
The number of IP Addresses Has Reached 135 Million
Along with the increase in Internet population, as the foundation of Internet resource, the IP addresses and domain names has reached 38 percent and 190.4 percent growth rate respectively. As at the end of December 2007, the number of IP addresses in China has reached 135 million, but in comparison with the need for one IP address for each Internet user, the gap is still big.
Digital Entertainment—Most Popular Internet Usage
The report also provided a break down of various Internet applications in terms of popularity. The most frequent usage of Internet has shifted to entertainment: the top seven Internet applications used most were: music (86.6 percent), instant messages (81.4 percent), videos (76.9 percent), news (73.6 percent), search engines (72.4 percent), internet games (59.3 percent), and emails (56.5 percent).
According to statistics in the report, 181 million users go online for music, 170 million for instant messages. Nearly 40 percent of users chose instant messages as the application they used first on the Internet, followed by Internet news, email etc. Amongst the applications listed, email was always the most popular application before 2007. Digital entertainment is one of the most important factors fueling the rapid growth in Internet user population.