A prominent Chinese cardiologist has acknowledged that COVID vaccines can cause severe myocarditis, and has proposed the establishment of centers focusing on diagnosis enhancement and treatment training.
An expert in cardiovascular internal medicine, Wang Daowen is the Director of the Internal Medicine Department at Tongji Hospital, Wuhan, and a professor at Tongji Medical College, Huazhong University of Science and Technology in Wuhan. Wang is also a political figure, as he is a delegate to China's rubber-stamp legislature.
During the recent "Two Sessions" meeting—the plenary sessions of the National People's Congress and the Chinese People's Political Consultative Conference—Wang advised China's National Health Commission to establish facilities to target the widely prevalent phenomenon of fulminant myocarditis.
Myocarditis is an inflammation of the heart muscle, and can reduce the heart's ability to pump blood—thus causing chest pain, shortness of breath, and a rapid or irregular heartbeat. Its fulminant—or sudden and severe—form, however, can lead to death from cardiac shock, arrhythmia, or multi-organ system failure.
Wang said he has treated several cases of fulminant myocarditis caused by COVID vaccination. He said, "Whether it is a protein vaccine, inactivated vaccine, or mRNA vaccine, there is the possibility of causing fulminant myocarditis," according to a Chinese media report.
High Mortality
Wang told Chinese media on March 10 that the mortality rate of fulminant myocarditis is above 50 percent.
He said the COVID Omicron variant—which is the predominant virus strain in the United States—has caused many cases of fulminant myocarditis in China.
According to Wang, all vaccines available against COVID-19 also have the ability to cause the sever form of myocarditis.
He explained that fulminant myocarditis is predominantly caused by viral infections, and that children and young adults are highly susceptible to this illness.
"It is a life-threatening condition characterized by a rapidly progressive course, with fatigue, circulatory failure, hypotensive shock, or even sudden death," he said, according to the report.
Wang also stated that reliable diagnosis is available. However, he said that "Most doctors aren't familiar with it, often take it to be a cold, and miss the early treatment," Wang said.
The report has caused a heated discussion among Chinese netizens.
One said, "It's been two years since the vaccination: I often have chest discomfort, and the hospital can't give me an answer." Another said, "They're still forcing children to be vaccinated! Shameless!" while a further asked, "If this is the case, who will bear the responsibility?"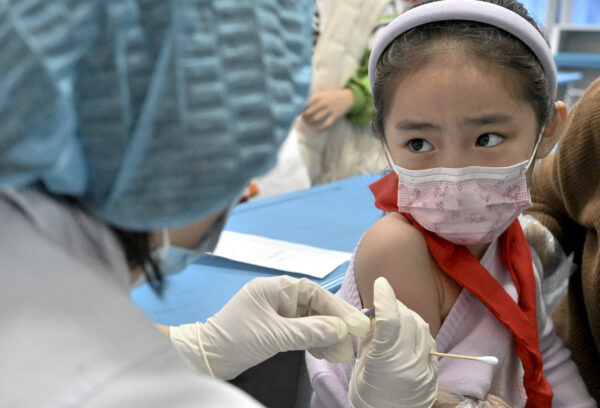 Flaws of Chinese-Made Vaccines
Serious adverse reactions associated with the COVID-19 vaccines are not just limited to myocarditis, however.
Previously, The Epoch Times has reported on high incidences of leukemia—and particularly in children aged three to 11—after injections of Chinese-made vaccines.
When the victims of the adverse reactions related to the Chinese vaccines sought help from the government, they were subjected to endless harassment and suppression.
In 2021, then Chinese Center for Disease Control and Prevention (CDC) director, Gao Fu, admitted that Chinese vaccines "don't have very high protection rates." However, he later denied making the comments, and claimed that the media over-interpreted words that he had meant as a suggestion for further investigation to confirm the effectiveness of vaccines against COVID-19.
Gao's accidental admission of the truth in 2021 may have cost him his job. He was dismissed as CDC director in July 2022.
Li Jing contributed to this report.