Chinese Head Hu Jintao Says One Thing, the Police Do Another
March 16, 2006 12:00 am Last Updated: March 16, 2006 12:00 am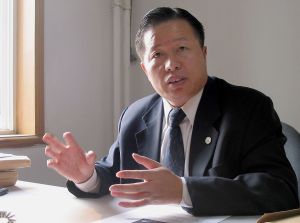 March 13 is the twenty-sixth day since the Chinese communist regime illegally kidnapped Ouyang Xiaorong. This kind of shameful conduct, which openly denies civilized rules and values, is still continuing and no one knows when it will end.
Two days ago, my lawyer friend Mr. Cai passed near Tiananmen Square and was stopped by a uniformed police officer. The officer did not show any identification, but forcefully searched him and his bag without giving any explanation. Cai told me, "I did not protest, as I discovered similar things were happening all around me. Any protest would find me surrounded and watched by onlookers. I also found that anyone showing the slightest discontent at the search would be dragged to nearby police vehicles, so I chose to swallow the insult in meek submission to save trouble!"
What happened afterwards was even more shocking. The officer (assumed to be from the police because he wore a police uniform) found some documents and books containing legal and judicial terms in Mr. Cai's bag. The policeman said to him expressionlessly, "You have to come with us because we found these legal documents and law books in your bag. We need to do further checking on you!"
Attorney Cai said that he could not believe his ears, as those books are not forbidden and they are publicly sold in bookstores. He added that in the past years when the two major political conferences were in session, there had also been on-the-street bag checking and questioning, but the examination was mainly targeted at those who appeared to be petitioners. The majority of pedestrians were not examined. Those taken away for further examination were only people from whom they found documents containing words like democracy, freedom and human rights.
The policeman told him, "You have to come with us because we found these legal documents and law books in your bag. We need to do further checking on you!"
This year, they have apparently extended the criteria for special examination to cover those carrying documents with legal terms. Attorney Cai said that since he came to Beijing to become a lawyer in 1997, every year when the two major political conferences were in session, he went nearby Tiananmen Square to take a look. This year three things surprised him: "The first is that they have apparently put on more police officers to carry out the on-the-street examination. Second is the unexpected expansion of the targets to be questioned. And the third is the area demarcated for the on-street examination was extended to include subway stations, train stations and all buses that go near Tiananmen Square."
Attorney Cai sighed with emotion, "There are fewer and fewer Chinese people who makes them [the communist regime] feel at ease, and there is a growing scope of people who makes them nervous!"