News Analysis
NEW DELHI—Propelled by its geostrategic ambitions, China is silently expediting a policy of unrestricted warfare in Kashmir, a region that has witnessed decades of territorial disputes between India and Pakistan, according to an expert on Kashmir.
"I will say the Chinese have a much more sinister, deeper, and larger agenda in Kashmir, rooted in its larger regional and global geostrategic ambitions," Abhinav Pandya, CEO of India-based think tank Usanas Foundation, told The Epoch Times on Feb. 8.
While India and China decided to end a 10-month-long military stand-off in the northern Indian region of Ladakh last week, Indian army chief Gen. Manoj Naravane said on Feb. 12 that China's "rising footprint" in India's neighborhood and its bid to "unilaterally alter the status quo" along India's disputed borders have fostered an environment of "confrontation and mutual distrust."
Kashmir and Ladakh are the northernmost border territories of India and were part of a common state that shared borders with both Pakistan and China before the political reorganization of Jammu and Kashmir in 2019.
Since the 1980s, China has adopted a policy of neutrality on the Kashmir issue, a region that was the triggering point of multiple wars between India and Pakistan. However, for some years, the regime in Beijing has issued loose-leaf stapled visas to people from Jammu and Kashmir—a gesture indicating that China doesn't accept India's sovereignty over the region.
Pandya believes that China doesn't want a resolution to the Kashmir issue. "It's their long-term strategic game. They wouldn't want the settlement of Kashmir in that sense," he said. "They would want it to be a disturbed area to keep India engrossed and to keep India under pressure."

Draining India's Resources in Kashmir
China works in tandem with its ally Pakistan to keep India totally engaged and "bogged down" in Kashmir, with an insurgency and local terrorism, said Pandya, who's also the author of the book "Radicalization in India: An Exploration."
China wants to "keep a major part of the Indian army occupied with Kashmir insurgency and the problems on the Pakistan frontier" so China can  "establish their firm control over the oceans, where they are vulnerable, as 60 percent of their oil supplies pass through Malacca straits," he said.
The Center for Strategic and International Studies notes that 80 percent of the global trade by volume and 60 percent by value goes by sea, and 60 percent of that passes through the Strait of Malacca. India has greater control over trade in the area because the trade route from the strait leads to India's maritime boundary. Pandya said that since India has the ability to choke that point, the Chinese are creating an alternate route by way of the Belt and Road Initiative.
While the conflict in Kashmir appears to be a dispute between only India and Pakistan, he explained, it is largely the result of unrestricted warfare waged by China against India. "For [the Chinese regime], war is not just confined to your military confrontation that lasts for a specific period of time. The idea is to dominate others, put others under some kind of an inferior economic and military position. Hence, the war is always continuing," he said.
"They would not want to have India as a powerful and adversarial neighbor in their backyard, as all their claims to global superiority will fall flat if India is seen or perceived as some kind of a challenger to China.
"So they would also want India to be economically backward under pressure. And Kashmir is a big, big theater to keep India economically drained."
Pandya said Pakistan acts in a "tactical convergence" with China in Kashmir.
"Chinese would start aggression in the eastern theater [Ladakh], and they would ask Pakistan to execute some kind of terror attack or organize a civil protest in Kashmir or massive ceasefire violations or even an attack on the western front [de facto border with Pakistan]," he said.

About Chinese Arms in Kashmir
When Pakistan directs a terrorist into Kashmir, the fighters are provided with two kinds of AK-47 assault rifles: One manufactured in Darra Khel, Pakistan, which costs roughly $370 to $415, and the other a Chinese-made version that costs $690 to $830, Pandya said, citing his research for his upcoming book "Terror Financing in Kashmir," a project of Vivekananda International Foundation.
Pakistan spends less than 1.5 to 2 lakhs ($2,300 to $3,000) on each foreign terrorist sent to Kashmir, he said. Since there seems to be no shortage of local recruits, foreign fighters and the costs incurred are even less, he added.
Meanwhile, the Indian army spends a minimum of $9,643-$11,021 (7-8 lakhs) on each cordon and search operation (CASO) to neutralize terrorists in Kashmir, he said.
"And in one day, you will have around 50 to 60 CASOs in Kashmir, and out of those 50 to 60 CASOs, maybe two or three turn out to be successful ones. So imagine the amount of money that India is spending," he said, adding that on average, 16 percent of India's development funds go to 1 percent of India's population in Jammu and Kashmir.
"Then surrounding this builds a whole huge conflict narrative," he said about the situation before India re-organized Jammu and Kashmir into two federally governed territories called the Union Territory of Jammu and Kashmir and the Union Territory of Ladakh.
"In the name of conflict, it's very difficult to prove the expenditure, it's difficult to hold people accountable, and it paves the way for massive corruption, huge corruption in the state."

China's Fears About CPEC
The China–Pakistan Economic Corridor (CPEC), which is a nodal project of China's Belt and Road Initiative, is displacing locals in the areas of Balochistan and Gilgit-Baltistan, which is legally India's territory but currently under Pakistan's control. The resulting dynamics have created a silent flashpoint between India and China in Kashmir.
"The [Pakistani army is] killing civilians. It has already generated hatred and resentment, giving rise to the armed Baluch resistance movement against CPEC activities and Pakistan's illegal occupation," he said. "Because of such a precarious situation, China fears that Indians might help the local rebels in sabotaging CPEC's projects in Balochistan.
"So that's why they want to keep India under some kind of pressure. And, to do that, they prefer to keep Kashmir boiling."
Researcher Zeus Hans Mendez at the Centre for Security Studies wrote in a paper published last fall that, at the time of the formation of India and Pakistan in 1947, Pakistan forcibly took over the region of Balochistan, while the ethnic Baloch people wanted independence. Mendez explained that fighting between the Pakistan army and Baloch rebels has led to the loss of thousands of soldiers and fighters since the 1970s.
"With so many Chinese set to enter Balochistan, the Baloch fear irreversible demographic changes and increased marginalization," Mendez wrote in the Journal of Indo-Pacific Affairs, adding that the Balochs have started a series of unsuccessful attacks against the CPEC. A top Baloch leader reached out to both the United States and India to support an independent Balochistan, describing the CPEC as "threatening to the interests of both India and the U.S."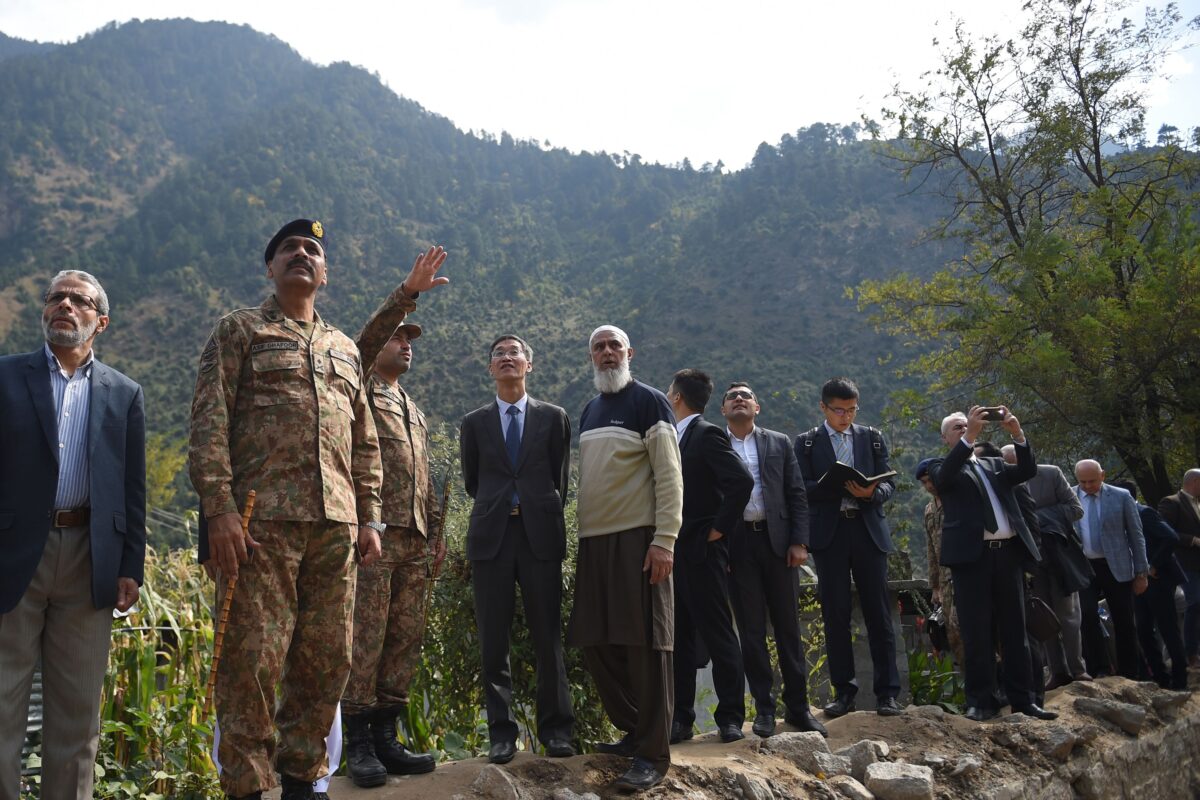 US Policy
Pandya said the United States must realize that amid a changing geopolitical context, India will be the most "trustworthy and credible" partner against China, should the Biden administration seek to be "sincere" with India.
"In the past, [the United States has] suffered from misplaced priorities and made wrong investments in Afghanistan. They provided billions of dollars in aid to Pakistan, and Pakistan kept bleeding them through Taliban and Haqqani network," he said.
"Now, President Biden must be perceptive and understand India's concerns and security issues vis-a-vis cross border terrorism supported by Pakistan. If the U.S. had supported and stood firmly with India against Pakistan on the Pak-occupied Kashmir and Gilgit-Baltistan issue, China would not have pulled off its CPEC in Gilgit-Baltistan."
He said that at a time when the United States is withdrawing from Afghanistan, China is ready to act as a decisive player with its ally Pakistan.
"The U.S. must stand firmly with India if it wants India to be its trusted partner against China," he said.
This is the first in the series on Global Agendas in Kashmir based on an exclusive interview with Abhinav Pandya, a field researcher in Kashmir who also advised the former governor of Jammu and Kashmir,  Satya Pal Malik, on radicalization and security issues during the critical phase of the abrogation of the Article 370 that led to the constitutional reorganization of the state.