Chinese Freelance Writer Sentenced To Six Years Imprisonment
March 23, 2007 12:00 am Last Updated: March 23, 2007 12:00 am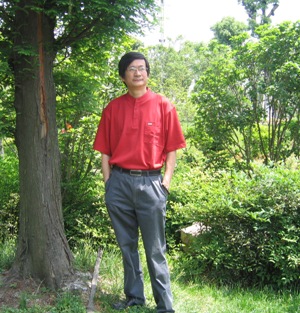 CHINA—The Ningbo Municipal Intermediate Court has sentenced freelance writer Li Hong (whose real name is Zhang Jianhong) to six years imprisonment for "inciting subversion against the state." China's state-run media released news of this case on the day he was sentenced, March 19.
Li's wife, a cousin, and a friend were present in the courtroom during sentencing. The entire session lasted only 20 minutes. Li and his defense attorney, Li Jianqiang, were not given any opportunity to respond to the sentence, but Li indicated that he was going to appeal.
Li's wife, Dong Min, tearfully told The Epoch Times, "I can't accept it, not at all! The sentence was too heavy! We did not expect such a heavy sentence. Initially we thought that the case might be dismissed, or at least [he would get] a lighter sentence or probation. We did not expect this outcome."
"He is just a writer—writing articles to expose the authorities and reveal corruption. He wrote commentaries based on his conscience and did not do the so-called 'inciting subversion.' This sentence is too unfair, too unfair."
Li Will Appeal
According to Dong, the authorities deceived the family many times by telling them that the sentence would be light or that he would be put on probation.
Dong says she is in poor health, and has been ill since the Chinese New Year. This sudden shocking news weakened her further and she is now beginning to suffer from heart problems as well.
Dong indicated that she and Li's defense attorney, Li Jianqiang, are planning to appeal tomorrow.
Dong stated, "Li Hong was taken to the court with hands cuffed behind his back and escorted by three bailiffs but still his face showed righteousness. This has earned him profound respect."
After the court announced the sentence, Dong immediately yelled out in protest. Li Hong turned around and told his wife not to cry because they were going to appeal. Three bailiffs dragged him away from the courtroom. Li then shouted, "I want to say a few words to my family…" but the bailiffs continued to drag him away, ignoring his request. Dong fainted on the spot.
Li's defense attorney, Li Jianqiang, protested loudly at the time, but the bailiffs also ignored him. More than ten police surrounded the defendant. Li Jianqiang had no choice but to support Dong as she walked unsteadily out of the courtroom.
Dong told The Epoch Times , "I have not seen him for over six months. He wanted to talk to me at that time, but the bailiffs forcibly hauled him away. I could only watch as they dragged him away while I was crying. I have reached the limits of sorrow and desperation."
Li Hong's father has passed away. His mother has not yet been informed of Li's sentence. Dong said, "She [Li's mother] is not in good health. I wouldn't dare tell her as I am concerned that she is unable to bear the news."
Xinhua News Agency Released English News Version
On March 19, Xinhua News Agency, the regime's mouthpiece, released news about Li's sentence. They accused Li of publishing over 60 articles on overseas websites that "slandered the government and China's social system to vent his discontent with the government…after his website was shut down, he himself was punished for illegal practices."
The news report also quoted the court statement: "the court protected Zhang's procedural rights and Zhang's lawyer had been given adequate opportunity to defend him."
According to Li's friend, no Chinese articles were published regarding Li's sentence.
Imperial Order From the Central Communist Party Authority
Li's defense attorney, Li Jianqiang, indicated that the Country Report on Human Rights Practices released by the U.S. State Department on March 6 mentioned Li's case. The Chinese regime then counter-released a U.S. human rights report two days later. Thirteen days later, Li Hong was sentenced to six years imprisonment.
"Should this be mere speculation? When I returned to the hotel that evening, a reporter from Reuters phoned and told me that the Xinhua News Agency released an English version," said Li Jianqiang.
"I then completely understood that it was the Chinese Communist Party (CCP)'s integrated disposition! In recent years, the Xinhua News Agency has had only four similar news releases on political cases; the Du Daobin, Gao Zhisheng, Xiaoshan house church, and Chen Guangcheng cases. They were all cases by imperial order without exception!"
Background
Li Hong's real name is Zhang Jianhong (Li Hong is his pseudonym). He was the chief editor of the Chinese literary and news web site Aegean Sea (Aiqinhai). Previously he had been sentenced to two years imprisonment for "inciting anti-revolutionary sentiment" during the 1989 democratic movement. The Aegean Sea website was jointly founded by Li and his friends. It was renowned for its daring articles but was shut down by the authorities on March 9, 2006.
Li Hong often published articles depicting current fraud and corruption and criticizing the CCP. He was arrested at home by the police on the evening of September 6, 2006.