Chinese Flight Attendants Pray to Make Plane Go Faster
July 15, 2013 5:15 pm Last Updated: July 16, 2013 5:43 am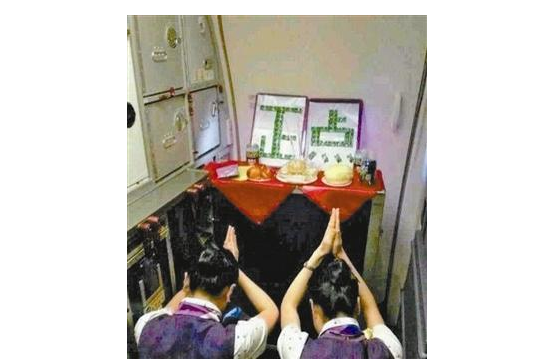 A photo of two female flight attendants praying for their plane to be on time has been circulating online, following a recent U.S. company report that named Beijing as having the world's most delayed flights.
Heads bowed, kneeling before an improvised altar—a food trolley covered by two red napkins—two female flight attendants conjoined their hands in front of a poster with two embroidered Chinese characters, 正点 (pronounced zhen dian), meaning "be on time." They placed fruits and food on the trolley as an offering, a Chinese tradition in temples and at home.
Recently the U.S. company FlightStats released a performance report that measured every international airport's number of delayed flights. Beijing's Capital International Airport sees 82 percent of its flights delayed while 71 percent of Shanghai's Pudong International Airport's flights are late, garnering the title of second slowest airport in the world.
Netizens sympathized with the flight attendants on Sina Weibo, China's Twitter-like platform.
"Aren't the airlines ashamed that their flight attendants had to resort to such lengths?" asked a Guangdong Province netizen.
A netizen from Fujian Province nicknamed Yyp-Salo said, "Even flight attendants want to get off work earlier."
The attendants seem to be wearing uniforms from Xiamen Airlines located in the southern Province of Fujian. When questioned by state-run Shenzhen Special Zone daily, Xiamen Airlines said that it isn't illegal for flight attendants to pray on planes but did not comment on the veracity of the photograph.
Other flights attendants from other airlines, including China Eastern Airlines, have also prayed and made their own altars out of boxes of food lying around, according to the local state-run Haixi Morning News in Xiamen, cited by the South China Morning Post.
Long wait times that extended six and a half hours past the scheduled departure drove one tour guide on July 2 to demand more compensation for the inconvenience and when her request was denied, to rip and destroy airport equipment and paper including one $815 telephone. She was arrested five days later.
Research by Ariel Tian.