Chinese Fishermen Protest Corruption
July 9, 2009 4:35 pm Last Updated: October 1, 2015 9:38 pm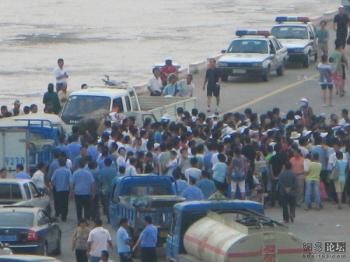 Several hundred fishermen in China's southeastern Lian Island gathered on June 30 to protest the corruption of the local authorities. The protesters clashed with local police. No injury was reported.
The protesters blocked the levee that links the island to the mainland from the early morning, and did not give in till dark when the authorities agreed to talk.
The islanders said the protest was to appeal for fair compensations for their loss of fishery rights to the government's port construction plans.
According to a witness, local police and armed riot troops were sent to the scene to disperse the protesters. The navy also sent officers to talk to the protesters, but without results.
The witness said that government officials did not show up until dark. "Instead, they sent gangsters to beat us up," the witness said.
The Lian Island, located in the Yellow Sea and offshore to China's major port Lianyungang City of Jiangsu Province, is home to 5,000 people who mainly live by fishery and aquiculture. Earlier this year, the authorities announced that fishery would be prohibited in surrounding waters due to a waterway expansion plan.
On June 28 the authorities posted a public notice to announce the compensation assigned to each islander. The sum for each family was no more than 20,000 yuan (US$2927), about one fifth of what the islander expected.
Suspecting their compensation fund was lost to corruption, concerned islanders went to the government office in the following two days to appeal, but were not allowed in.
Local officials refused to comment on the incident.
Read the original Chinese article .