Landmark Decision Allows Chinese Farmers to Transfer Land-Use Rights
October 23, 2008 5:30 pm Last Updated: October 1, 2015 10:43 pm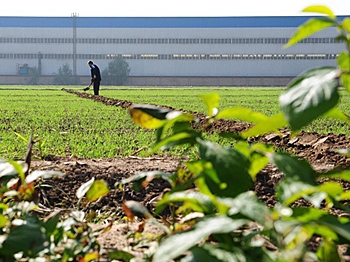 A landmark policy document detailing the Chinese Communist Party's (CCP) recent decision in promoting rural reform was published in full by state-owned Xinhua News Agency on October 19. The new agricultural policy allows farmers to circulate contractual operation rights of their land through subcontracts and leasing agreements.
The decision concerning several major issues on advancing reform and development in rural areas was approved at the four-day third plenary session of the seventeenth CCP central committee, held in Beijing from October 9 to 12, but was not mentioned in the plenum communiqué and was not released until last Sunday.
According to the full text of the document, markets for the lease of contracted farmland and transfer of farmland usage rights shall be set up and improved to allow farmers to sub-contract, lease, exchange and swap their land-use rights, or joined share-holding entities with their farmland.
In areas with appropriate conditions, it is permitted to develop entities in management of scale, such as large specialized households, family farms, and specialized farmers' cooperatives.
The policy strictly stipulates that the nature of collective ownership should never be changed in the transfer or leasing of use rights. It also says that the land must never be transferred or leased for non-agricultural purposes and the right and interest of farmers involved must never be infringed upon in the process.
"Such transfers of land-use rights must be voluntarily participated in by farmers, with adequate payment and in accordance with the law," Xinhua cited the Party's decision as saying.
China scholars generally believe that this policy will allow real capitalists into the agricultural sector and an income increase for farmers will help to expand domestic demand. Some think there are many contradictions and challenges that rural reform and development face at present.
Three decades ago, Deng Xiaoping, chief architect of the country's reforms and opening up, initiated the rural reform that led to collective land being contracted to individual farmers.
But despite getting more control over land, many farmers work on tiny, state-allocated plots of land for part of the year, investing limitedly in agriculture. While they are entitled to 30-year land-use contracts, the state retains ownership of rural land, and local officials often seize or reallocate it to suit their development priorities and gain handsome profit.
Rural land disputes are the biggest issue of social unrest in China. Protests and riots in rural areas occur in the thousands each year, according to national police estimates. The social phenomenon is often criticized as allegations of corruption and illegal land seizures.
Many farmers leave the land to seek work in cities, but they are still classified as farmers under the country's population control policies and tend to be low-income seasoned workers.
The urban-rural income gap has kept widening over the years. Farmers' average net income for the half year of 2008 was 2,528 yuan (US$370), Agriculture Minister Sun Zhengcai said in his August report to the Standing Committee of the National People's Congress in Beijing.
With the urban per capita net income at 13,786 yuan ($2,017), against 4,140 yuan ($606) in the countryside, the ratio was 3.3:1 in 2007, the highest since China launched its reform and opening-up policies, Sun said.
On the other hand, the fixed assets investment in the countryside has accounted for a small portion of the total social fixed assets investment since 1996, down from 23.3 percent in 1996 to 14.4 percent in 2007, which is seen to be largely responsible for the stagnant development of China's countryside compared to cities, said Li Heng, analyst at TX Investment Consulting Co. Ltd.
As all land in the country is officially owned by the state, the policy is not expected to result in private land ownership.
Certain scholars ask why, with the adoption of the Real Right Law in China, the farmers' lands are not allowed to be privately owned? It is estimated that the market value for rural housing land alone is over 20,000 billion yuan ($2,928 billion). Allowing farmers to lease their land to corporations or use their plots as collateral for loans will not only financially liberate them from years of oppression from local authorities, but also enhance the sector's productive capacity in China's rural economy, which has been regarded as a source of capital accumulation for industrialization and urbanization for the past years.
On October 20 Radio Free Asia reported that Li Baiguang, an activist who had been detained many times for his efforts in advocating farmers rights, said, "Under the premise of the CCP rule, I think the policy on land ownership will not change. Then why introduce this land use policy at this time? I believe it is mainly due to the young people in countryside. Based on my study in my hometown and some other provinces, most of the people in the countryside under the age of 50 have gone to work in the cities, and those who remain are mostly sick and elderly. A large amount of rural lands have been idle. If we do not implement this land management system, I think so much of this land will go to waste."
The document has no concrete measures in the reforms. Some scholars believe that China's shifting land reform policy reveals that the CCP's is trying to balance vested interests with the growing unrest in rural areas. Yet whether the central committee's policy can be truly implemented still remains a question.
Read this article in Chinese.