Yang Yuyong and nearly 20 other Falun Gong practitioners in the Chinese port city of Tianjin were arrested and detained by local security forces last December. After eight months in police custody, Yang passed away in a hospital on July 11, seemingly from the wounds he sustained from torture and abuse.
But even in death Yang hasn't escaped the control of Chinese authorities. Tianjin police are restricting access to his grave, and the hospital's head doctor appears to have listed a bogus cause of death. Yang's family is now demanding an investigation.
Practitioners of Falun Gong, a traditional Chinese spiritual practice, have been targeted for suppression by the Chinese authorities since July 1999 when former Communist Party leader Jiang Zemin launched a persecution campaign. Today, hundreds of thousands of practitioners continue to be held in some form of detention, where they suffer vicious abuse. Researchers say that the Chinese regime is profiting from the forced live organ harvesting of practitioners.
Yang Yuyong, who was 56, had been arrested multiple times since the start of the persecution. On Dec. 7, he and his wife were again arrested, this time as part of a large sweep of Falun Gong practitioners in Tianjin, and were held in Wuqing District Detention Center.
In early January, Yang went on hunger strike to protest his imprisonment. His jailors responded by shackling his ankles and wrists together, forcing him into a painful bent position. Two heavy metal balls were also attached to the shackles around his feet.
In another incident, Yang's jailors instructed thirteen detention center inmates to beat him unconscious. One of Yang's lawyers said that the inmates had also cursed at and sexually abused him.
Then on July 11, the Tianjin authorities notified Yang's family of his death at 3:40 p.m. that day. The hospital's head doctor said that Yang had sustained a lung infection and a very high fever, implying that he had died of illnesses.
Yang's family, however, believes that the official medical account of Yang Yuyong's death was falsified. Yang had no history of illness, and had appeared healthy when Yang's lawyers visited him a fortnight ago.
Also, when Yang's family arrived at the hospital, they found his body covered in wounds and bluish-purple bruises as well as cuts on his toenails that suggested his feet had been stabbed with bamboo sticks or needles. They also noticed grotesque wounds on the back of his ears, according to Minghui.org, a clearinghouse for information on the Chinese regime's ongoing persecution of Falun Gong.
Further, a friend of Yang's said that his body was already rigid by the time his family saw him at the hospital at 6:00 p.m., which suggests that Yang had passed away much earlier than 3:40 p.m. as the Tianjin authorities had claimed. Yang's friend wishes to remain anonymous out of safety concerns.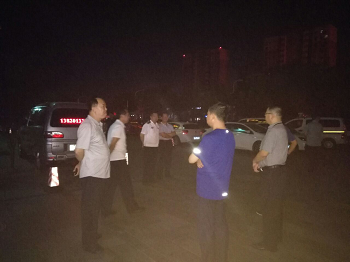 Events quickly took an alarming turn. At about 3:00 a.m. the following day, 14 police cars pulled into the hospital's parking lot. Nearly a hundred police officers, including special forces dressed all in black, swarmed out and surrounded the hospital, forming two rows to make a human wall extending to the entrance, according to Minghui.
Ignoring the family's wishes, the newly arrived security forces took Yang's corpse to a cemetery near the hospital and tried to block anyone from taking pictures. The police are monitoring the entrance to the cemetery, as well as registering names and videorecording visitors to Yang's grave.
Yang's family is demanding an investigation into the cause of his death as well as the release of Yang's wife and fellow Falun Gong practitioner Meng Xianzhen. Meng was imprisoned in the same detention center as her husband.
"The first thing we need to do is make them release my mother since she did not commit any crime in the first place. After what happened to my father, I worry about her safety," said Yang's daughter in an interview with Radio Free Asia. "The next step is to seek justice for my father." 
Yang's two children have asked the detention center to release their mother, but they were told to fire one of their lawyers, Wen Donghai, because of his alleged "anti-China" background.
Yang's children met with authorities on July 14 without their lawyers, who had been denied entry. The authorities then used their mother's safety to threaten them to privately settle the matter of their father's death and to stop publicizing the incident on the internet. Yang's children, however, declined.
Yang's lawyers have tried to file criminal complaints against the head of the Wuqing District Detention Center and a guard surnamed Liu for torturing him. The Wuqing District Procuratorate has refused to accept the complaint, while the Tianjin Procuratorate and the Tianjin Police Department have not responded.