When a Chinese doctor posted an online article warning people against the side effects of a brand of Chinese medicinal liquor, police were instructed to arrest him. News recently emerged that the doctor has become mentally unstable after being detained by authorities in Inner Mongolia for three months.
Tan Qindong, 39, a doctor from Guangzhou City, Guangdong Province, posted an article on Dec. 19, 2017, explaining that "Hongmao Medicinal Liquor"—which is advertised as a cure-all tonic—has an adverse effect on the elderly, who could experience side effects such as changes in heart muscles, vascular aging, and atherosclerosis. He called it "poison" and warned against elderly people taking it.
Tan graduated from Central South University in Changsha City, Hunan Province in 2010, with a master's degree in anesthesiology. He has a doctor's qualification certificate and a clinical certificate. He was an anesthesiologist at the Third Affiliated Hospital of Southern Medical University in Guangzhou, and started a pharmaceutical technology company in 2015, according to a report by NTD, The Epoch Times' sister media.
Hongmao Medicinal Liquor is produced by Inner Mongolia Hongmao Co., located in Hongmao Town, Inner Mongolia in northern China.
Police in Inner Mongolia charged Tan with "damaging the reputation of a commodity," and arrested him. He was detained at a facility in Inner Mongolia for three months, and released on April 17 to await his court trial.
Less than a month after Tan returned to his hometown, on May 11, he was summoned by Inner Mongolia police. They arrived at his home and interrogated him for 12 hours. He became mentally unstable upon returning home, according to a May 14 online post by his wife, Liu Xuan, on Sina Weibo, the Chinese equivalent of Twitter.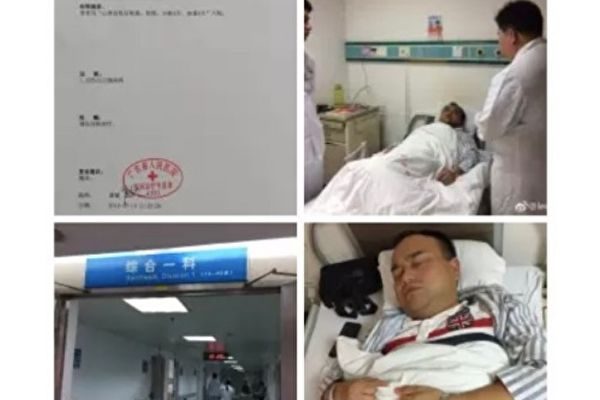 His wife wrote that beginning at midnight after Tan returned from speaking with Inner Mongolia police, Tan locked himself in his room and was emotionally out of control. He started to cry, talk to himself, slap his own face, and bang his head against the wall. His family sent him to the hospital. He was diagnosed with post-traumatic stress disorder (PTSD) and hospitalized in the mental health unit of Guangdong Provincial People's Hospital. Liu's post was soon deleted by internet censors.
Observers suspect that Tan may have been tortured while under police custody.
Mr. Zhao, a rights activist from Liaoning Province, told NTD, The Epoch Times' sister media, in an interview on May 17 that he heard from many people who indeed have experienced side effects after drinking the Hongmao medicinal liquor.
"The Chinese police have too much power. They can arrest people unscrupulously. They can arrest people at will under any name of crimes," Zhao said. "People in China really live in extreme fear. Now, we can't say anything. Whoever tells the truth will be arrested."
Mr. Zhang, a rights activist from Jiangxi Province, told NTD that he believes the Hongmao company pressured the local police to arrest and detain the doctor. "Simply put, Hongmao has a lot of money and is a big taxpayer in the local area [of Inner Mongolia]," he said. "Clearly, they used their power to trample on the law."
Senior media commentator, Shi Feike, posted an online article on May 15, noting the lack of rule of law in Tan's case. He was detained without bail; criminal proceedings have turned into a form of punishment and social control.
Xiong Bin and Chen Jie of New Tang Dynasty Television contributed to this report.
Recommended Video:
How Doctors in China Turn into Murderers