Chinese Diplomat Loses Temper
August 18, 2006 12:00 am Last Updated: August 18, 2006 12:00 am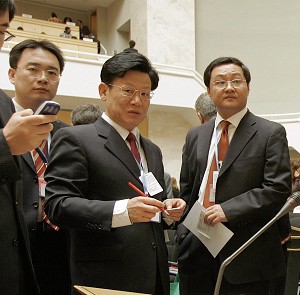 "Forget it, it's high time to shut up!" the People's Republic of China's Ambassador to the United Nations in Geneva said, referring to the United States, during a BBC interview Thursday.
Ambassador Sha Zukang was responding in particularly harsh tones to U.S. criticism over the P.R.C's naval buildup, his voice rising several times.
"The moment Taiwan declares independence, supported by whoever ! China will have no choice," he said. "We'll do the business through whatever means available to my government. Nobody should have illusion on that."
"We'll do the business at any cost. It's not a matter of how big Taiwan is , but for China one inch of the territory is more valuable than life of our people. We are never consider on that!'
An audio recording of Sha's comments can be found online at The World, a co-production of the BBC World Service, WGBH Boston, and Public Radio International.