An official delegation from China has reportedly been banned from attending Queen Elizabeth II's lying in state in London's Westminster Hall.
According to Politico and the BBC, House of Commons authorities have refused to allow representatives of the Chinese Communist Party (CCP) regime to set foot in the hall, which is part of the parliamentary premises.
Commons Speaker Sir Lindsay Hoyle intervened to deny Chinese officials access to the hall as British lawmakers remain sanctioned by the Chinese regime, a parliamentary source told the PA news agency.

A House of Commons spokesman said, "we do not comment on security matters."
Downing Street also declined to comment. Asked about Prime Minister Liz Truss's view on the issue, a Number 10 spokesperson said: "Admission to Parliament is a matter for Parliament."
Chinese Foreign Ministry spokesperson Mao Ning told a briefing in Beijing that she had not yet seen the report.
But she said, "As the host, the United Kingdom should uphold diplomatic protocols and proper manners to guests."
'Extraordinary'
The Chinese regime imposed sanctions in March 2021 on seven UK parliamentarians for speaking out against Beijing's treatment of the Uyghur people in Xinjiang.
Six months later, Sir Lindsay and his counterpart in the House of Lords, Lord McFall, blocked the Chinese ambassador to the UK Zheng Zeguang from visiting Parliament, arguing it would not be "appropriate" while British parliamentarians remain sanctioned.
Some of the sanctioned UK lawmakers have been raising concerns about the Chinese delegation's possible presence at the Queen's funeral, saying it was "extraordinary" they had received an invite.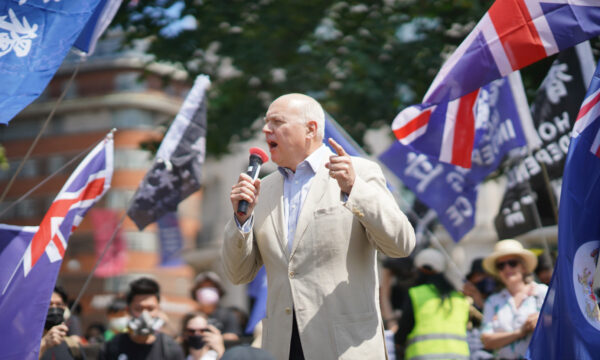 In a letter to the speakers of both the House of Commons and the House of Lords, senior Conservative MPs Tim Loughton and Sir Iain Duncan Smith, crossbench peer Lord David Alton, and Labour peer Baroness Helena Kennedy said they were "greatly concerned" to hear that "the government of China has been invited to attend the state funeral next week, despite other countries Russia, Belarus and Myanmar being excluded."
"Given that the United Kingdom Parliament has voted to recognise the genocide committed by the Chinese government against the Uyghur people it is extraordinary that the architects of that genocide should be treated in any more favourable way than those countries who have been barred," they said.
Contentious Guest List
In the letter, the parliamentarians said they had also written to Foreign Secretary James Cleverly to express their concerns.
In response to the letter, a spokesman for the prime minister said it is for Buckingham Palace to set out the guest list after taking advice from the foreign office, which, according to convention, invites representatives from nations with which Britain has diplomatic relations.
Chinese leader Xi Jinping, who met Russian President Vladimir Putin at a summit in Uzbekistan on Thursday, is not scheduled to attend the Westminster Abbey funeral on Monday, instead sending his deputy, Wang Qishan.
According to the BBC, the UK government hasn't sent invitations to Russia and Belarus because of the invasion of Ukraine.
Burma, also known as Myanmar, hasn't been sent an invitation either because of a breakdown in diplomatic relations following last year's military coup.
Representatives from Syria, Venezuela, and Afghanistan are also not on the guest list, and North Korea, Iran, and Nicaragua have only been invited to send ambassadors, the BBC reported.
PA Media and Reuters contributed to this report.