Chinese Defector in Hong Kong After Taiwan Rejects His Political Asylum Request
October 27, 2006 12:00 am Last Updated: October 27, 2006 12:00 am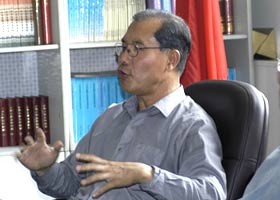 TAIWAN–Mr. Jia Jia, Secretary General of the Science and Technology Association of Shanxi Province, was deported back to China on October 26 after his request for political asylum in Taiwan was rejected. He boarded a plane bound for China by way of Hong Kong. However, according to insider information, Jia Jia deplaned in Hong Kong and will stay there for the present.
Jia Jia is the Secretary General of the Shanxi Scientific and Technological Experts Association. He departed from his Chinese tour group after arriving in Taiwan on October 23. Later he publicly sought political asylum. In a telephone conversation on October 25, Jia Jia's son, Jia Kuo, explained that the primary purpose of his father's trip to Taiwan was to sever his ties with the CCP.
Earlier, there were contradictory reports about Mr. Jia's whereabouts. According to most of the Taiwanese media, after an emergency meeting, Taiwanese authorities sent Mr. Jia back to China at dawn on October 26. Other Taiwanese media claimed that Mr. Jia had arrived in Hong Kong via China Airlines. Yet, an anonymous source said that Jia was still in the Taiwan Taoyuan International Airport at noon on October 26.
On the morning of October 26, an Epoch Times reporter asked the Taiwanese authorities whether Mr. Jia was still in Taiwan or not; but no government organization was certain of Jia's whereabouts. Taiwan's Mainland Affairs Council repeatedly told The Epoch Times that the Council would not make any comment on sensitive issues. On the other hand, it did not state whether Jia has been deported or not. The Mainland Affairs Council said that it is the Immigration Office of National Police Agency that is in charge of deportation.
The Epoch Times called the Immigration Office at about 9:00 a.m. and were told that Jia was under the custody of DAAN Police District of Taipei City Police Department. According to the police from DAAN Police District, the police were planning to place him on a 10 a.m. flight, but were not sure whether the plan would be carried out. Meanwhile, The Epoch Times called the Aviation Police Office and confirmed that Jia had not yet left Taiwan.
According to the Mainland Affairs Council, Jia was unable to produce the relevant documents and did not present strong evidence that he needed political asylum. Therefore, the Council said, they had no choice but to deport him.
When Jia Kuo, Mr. Jia's son in New Zealand, heard the news, he said that he would persevere in his ideals.. He said he also has relevant documents about withdrawing from the Chinese Communist Party. He is planning to have a press conference as soon as possible.
Knowing Jia Jia has left Taiwan, Dr. Gao Dawei, spokesperson for Global Service Center to Quit the Chinese Communist Party (CCP), urges governments and people worldwide to pay attention to Jia Jia's situation, which helps keep him from harm now that he has revealed position against the CCP. Dr. Gao said that a high level of attention would help protect Jia Jia and make the CCP think twice about persecuting him.
Earlier Dr. Gao urged the Taiwanese authorities to accept Jia Jia's request for political asylum based on humanitarian considerations to prevent him from political persecution in China.
"As a government official in the Chinese Communist regime, he has manifested a great deal of courage and valor by departing from China and renouncing all ties with the CCP in public. Every country is obligated to protect and support Jia Jia," Dr. Gao said.