Chinese Court Receives Special Pleading for Accused Rapist, and Maoist Singer
July 11, 2013 7:30 pm Last Updated: July 12, 2013 10:48 am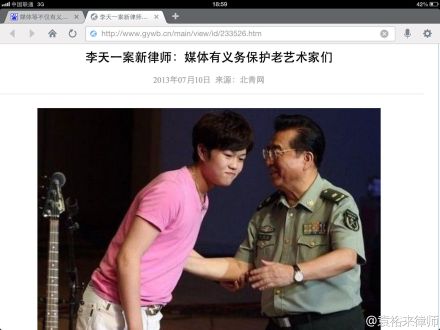 In the latest development in the case of Li Tianyi, the son of a Chinese general who was charged with gang rape in February, Li's lawyers have issued a statement urging the media to protect the family's privacy and reputation, noting that "it is an obligation of the media to look after and protect senior artists who have devoted much of their lives to bringing people joy through their singing." 
Li's father, Li Shuangjiang, is a singer in the People's Liberation Army, known for his Maoist era revolutionary tunes. He also holds a non-commanding position of major general. 
The announcement has incensed many netizens, who interpreted the message as another sign of Party officials and their children's mindset that their power enables them to special privileges. 
Li Tianyi and four other men were arrested on February 20 for allegedly raping a woman after they met her at a bar and brought her to a hotel room.
The case was widely covered by Chinese media, which led some commentators to believe that the media received directives from the Party leadership, as part of an effort to bring down Li Shuangjiang through his son.
 
On Wednesday, Li's lawyers posted a statement on Sina Weibo, China's Twitter-like microblogging platform, reprimanding Chinese media for defaming and intruding on the privacy of Li and his family. 
"Many local media, Internet portals, and state media are infringing on the rights [of Li and his family] through their reporting, publicly disclosing the names, pictures, and videos of the minor suspect Mr. Li and his family," the statement read.
It continued to say that the media has a duty to look after minors and "senior artists," as well as "to guide those people who may be biased and irrational, to become more practical and realistic and respect others' privacy."
However, a report by the South China Morning Post (SCMP) suggested that Li may actually be older than his parents claimed, and should be tried as an adult. Though his parents say Li is 17 years old, the SCMP obtained a photo of Li with his primary school graduating class, dated 2006. Two of Li's classmates told the SCMP that most people in the class photo are now 19 years old. The Chinese judicial system is usually more lenient toward minors.
State media had reported that prosecutors in Beijing confirmed Li Tianyi was a minor.
On Thursday, the lawyer of the gang rape victim released a statement in reaction to Li's lawyers' announcement, condemning the lawyers entering a not guilty plea. The statement claimed that one of Li's lawyers, Chen Ran, formerly worked for the Haidian District prosecutor's office that is suing Li, and thus should not be allowed to defend Li.
Netizens on Sina Weibo criticized the lawyer's statement. Yuan Yulai, a lawyer from Zhejiang Province wrote a message that was re-posted more than 12,000 times at the time of writing: "Simply because of his singing, he became a general, always surrounded by applause and bouquets of flowers. Instead of appreciating the people, he thinks the people should be grateful to him." 
Yuan condemned Li Shuangjiang for thinking that people have an obligation to protect their children. "This is a common mentality among our country's high-ranking officials. They constantly enjoy special privileges, but they think they have spent their whole lives serving and sacrificing themselves for the people."
 
Another netizen with the avatar "Female finance reporter's blog," posted: "I have only heard of the media having the duty to safeguard fairness and justice, not to protect the gang rape behavior of Li Tangyi."
Research by Ariel Tian. Translation by Frank Fang and Bill Xu.