Chinese Couples Divorce to Gain Better Education and Fewer Taxes
July 10, 2013 5:09 am Last Updated: July 10, 2013 6:23 pm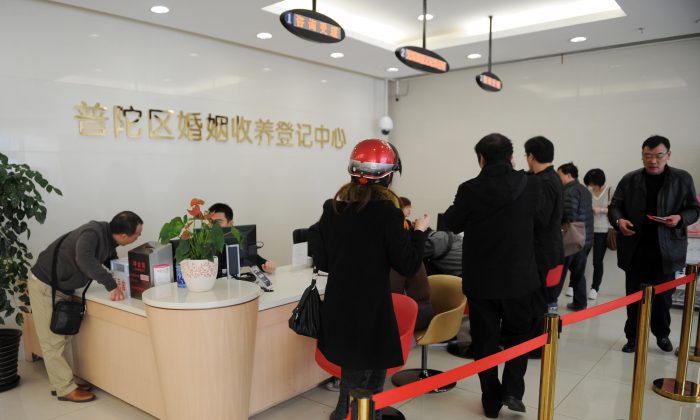 Nanjing offices are now limiting the number of divorces due to an explosion in the divorce rate for couples eager to evade property taxes and register their children for better primary schools.
Under the new policy, couples who want to divorce must draw a number and wait in line. When the divorce registration centers run out of numbers, couples will have to return another day. Registration offices hope the waiting will help couples think more clearly about the risks involved in divorce.
Often Nanjing couples divorce to qualify their children for school in the Gulou district, known for its superior quality primary schools. A new policy in June forces children to attend school in the same district as their registered household. A Gulou district official told the Modern Express, a local Nanjing paper, that they had handled 55 divorce cases on June 13, while they usually handle only about ten cases a day.
Nanjing and other major Chinese cities have seen divorce rates skyrocket since March largely because of couples trying to avoid a 20 percent property tax for selling a second home.
The policy, enacted in March by China's State Council to limit the property boom, also states that primary residences that have been owned for over five years are exempt from taxes, offering couples a loophole from the policy: couples who own two homes may divorce to sell one house as a primary residence and then remarry after the sales.
A 32-year-old woman surnamed Lin told the Modern Express that she had "fake" divorced twice in less than six months so the family could sell a house and enroll their son into Gulou. "The divorce procedure is easy because we have so much experience," she said.
But she admitted that she was "a little nervous" because both of their homes were registered under her husband's name while they were divorced. "It's a feeling that's hard to explain." She added that to avoid any conflicts, their son didn't know about the divorces.
As of July, there have been 18,311 divorces in Nanjing, which is 1.7 times the amount of divorces at this time last year and 79 percent of last year's total, according to Ma Hong, an official in the Nanjing City Bureau of Civic Affairs.
"If we look carefully, the increases in divorce overlap with the enactment of the property tax and primary school policies," said Ma. "Divorce and marriage have become the tool to avoiding government policy restrictions."
Netizens on Sina Weibo, China's Twitter-like platform, expressed confusion over the behavior of many couples in China.
"What kind of country is this? What kind of policy?" said a netizen from Guangdong Province.
"The new laws force people to act bizarrely," said a netizen in Sichuan Province.
A netizen from Zhejiang Province remarked, "Even aliens from outer space wouldn't understand this strange country."