Chinese Consulate Rejects Reporter's Visa Application
April 22, 2006 12:00 am Last Updated: April 22, 2006 12:00 am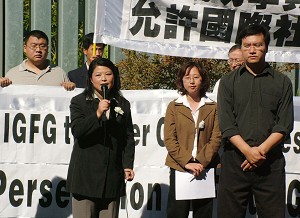 Almost three weeks after the Epoch Times published reports about a Chinese concentration camp where organs were being harvested from Falun Gong practitioners, China's Ministry of Foreign Affairs dismissed the reports and openly invited the international community to conduct an investigation.
In response to this invitation, Sydney-based reporter Linda Xu from the Sound of Hope radio station went to the Chinese consulate in Sydney on April 19 to lodge a visa application. Her application was immediately rejected.
Ms Xu was told by an official at the visa office that reporters entering China need an invitation letter from the Chinese Ministry of Foreign Affairs. Ms Xu explained that at a press conference on March 28, Qin Gang, spokesperson for the Ministry of Foreign Affairs had openly invited the international community to conduct an investigation.
The official replied: "This is not possible. Why don't you ask Qin Gang for an invitation letter yourself!" He returned the application documents to Ms Xu. When she tried to explain further, a consular security guard told her to leave.
Ms Xu, who specializes in reporting on human rights activities in China, volunteered to be part of a team of investigators from the "Coalition to Investigate the Persecution of Falun Gong in China" (CIPFG). The team plans to conduct a three month investigation into all forced labor camps, prisons and hospitals in China. CIPFG announced that the five volunteers in this first team are representatives from three independent media – The Epoch Times , Sound of Hope radio station and NTD TV station, with offices in North America, Europe and Australia.
A spokesperson for Sound of Hope radio station said that the Sound of Hope radio station had formally accepted the invitation from Qin Gang.
Ms Xu said that the Consulate's request for an invitation letter from the Ministry of Foreign Affairs is not part of the normal procedure for a visa application. On April 18, CIPFG wrote to all Chinese foreign affairs offices to inform them that several reporters would be submitting visa application forms in different countries on April 19. Ms Xu believes the request for an invitation letter is an obvious attempt by the Chinese consulate to stall the reporters. "Qin Gang's speech was a decoy to deceive the international community and a show put on by the communist regime," she said.
Ms Xu reported on the 2005 bird flu outbreak in Anhui and Northeast China province and the appalling situation of appellants in Shanghai who were thrown out of their homes. She also conducted a series of interviews with human rights attorney Gao Zhisheng. She said she wanted to fulfill her responsibility as a reporter and personally go into China to conduct an investigation into the persecution of Falun Gong practitioners.
According to testimonials from witnesses and other sources, widespread harvesting of organs from Falun Gong practitioners for profit were carried out in many prisons, forced labor camps, hospitals and related facilities all over China since 2000. Recent interviews conducted in China indicated that in the coming months leading up to July 1, Falun Gong practitioners would be in even greater danger. As a media representative, Ms Xu feels she has the responsibility to society to uncover the truth.