Apple's next generation iPhone 7 is set to be released this September, brewing excitement and anticipation around the world—but not for this Chinese company.
Bina Technology, a Chinese company in Zhejiang Province, issued an internal notice on July 18, demanding employees to replace their iPhones with other phone brands.
"From today on, company employees still using iPhones are asked to switch phone brand. The company will provide a corresponding subsidy … Any staff who purchases an iPhone 7 will be expelled from the company. Those expelled over this matter will be banned from employment for life," read the "Patriotic Notice."  
Depending on the model, staff can expect a compensation of up to 2,500 yuan ($375).
The notice also includes a "Bina motto" that reads "Let China fall in love with 'made in China.'"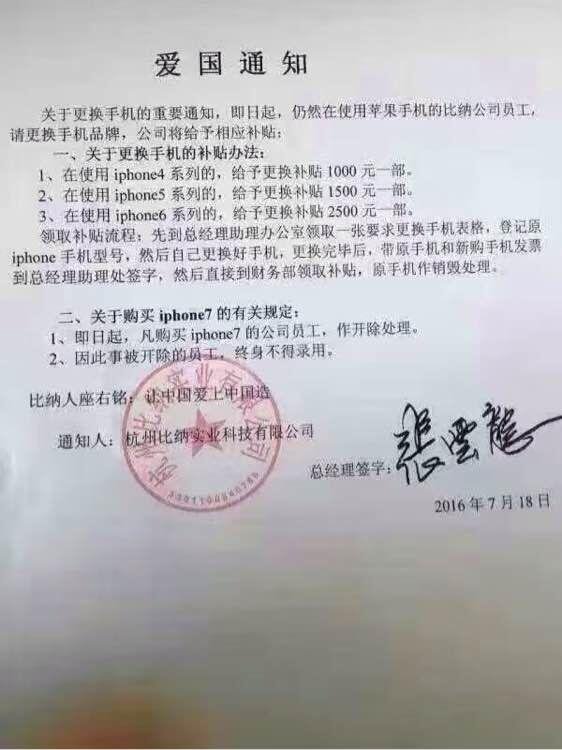 "The main goal here is to prohibit staffs from following the trend and purchasing the iPhone 7 after it hits the market, but replacing the current iPhones is not mandatory," company shareholder Mr. Shen told state-run media. "The domestic phones on the market have great performance, why would you have to get the expensive iPhones?" he added.  
Products from U.S. and Philippines have suffered a backlash in China since the recent South China Sea ruling stoked Chinese nationalism to another level. Videos and photos show Chinese boycotting Philippine-imported mangoes, protesting outside American fast food chain KFC, and even smashing iPhones to vent anti-American sentiment.
While KFC and Apple may not have done anything offensive themselves, as well-known American brands, they seem to be bearing the brunt of Chinese patriotism, James Roy of the research firm China Market Research Group.
KFC and Apple "are just closely associated with the U.S., and you are seeing people picking the closest symbol they can think of to demonstrate against," Roy told the Associated Press.
Many netizens appear unimpressed by the latest tide of patriotism.
"So being patriotic means damaging our own property?" said Weibo user Deng Yujun, responding to the incident.
"It seems like the 'Patriotic Notice' resisting U.S. and Japanese products was printed from a Japanese printer and edited through American computer software," wrote another.
"The android phone system is also from Google [an American company], and computers are Microsoft, then that means you can't use the internet." remarked Wang Moyan on Weibo.
【今天你卖国了吗?】以前,在赵国想做卖国贼要有足够的钱 买一辆日系车才有资格成为卖国贼,现在做卖国贼门槛放低到你只要吃一顿肯德基麦当劳就能成为卖国贼了。

今天你卖国了吗? pic.twitter.com/FLhTvObJrv

— 王译 (@wangyi09) July 19, 2016
Translation: [Have you betrayed your country today?] Before, you needed enough money and buy a Japanese car to become a traitor in China, now the standard for treason is so low that you could become a traitor by eating KFC or McDonalds.
Chinese state media have since called for a "rational patriotism."
Even Hu Xijin, editor of the reliably nationalistic state media Global Times, recently posted a KFC box on Weibo, saying that he "specially bought KFC food today."
"The recent 'South China Sea Arbitration farce' has greatly injured the feelings of the Chinese people…but if this feeling, labeled 'patriotism,' is released and transformed to unlawful activities to disrupt social order, then a serious error will have been made" said the state mouthpiece Xinhua. "How can someone consider damaging their fellow citizens' property as 'patriotism?' Isn't this tormenting oneself?"
China has dismissed the ruling of the international court favoring the Philippines, and continually asserts its claimed territorial rights over the South China Sea. Chinese navy commander Wu Shengli has vowed to continue construction on the Spratly Islands, according to People's Liberation Army Daily.