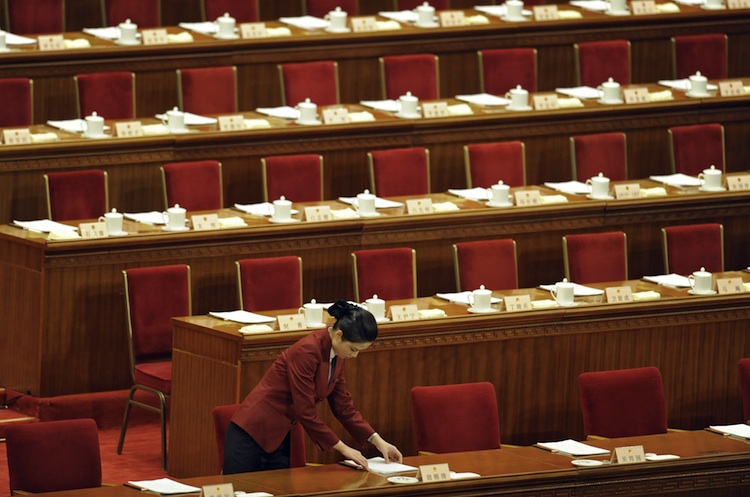 Just after announcing that Bo Xilai would be expelled from the Chinese Communist Party, Party mouthpieces also announced that the Party's 18th National Congress would be held on Nov. 8. The date had been under tight wraps for months, with constant speculation in the domestic and international media about when it would be held.
The Congress will see a significant overhaul of the Party's top leadership, ushering in Xi Jinping, as General Secretary of the Party, and Li Keqiang as state premier. Many other personnel changes at the top will also be made, a matter that has led to heated politicking inside the Party's opaque system in preceding months.
On the regime's two main news websites, People's Daily and Xinhua, the headline announcement was in bright red or crimson, and its placement relegated the news of the casting out of Bo to a smaller font and less prominent location.
Chinese online news portals and newspapers, as per standard practice carried the announcement word for word, though the commercially-oriented ones, such as QQ and NetEase, led with the Bo news.
Bo is the former Politburo member and Party chief of the city of Chongqing who has been one of the central figures in the Chinese regime's most serious political crisis in recent memory.
Bo was found guilty of "severe disciplinary violations" in a report prepared by the Party's internal investigative agency. On Friday high-level officials adopted the report's findings and Party media announced Bo's expulsion.
Editor's Note: When Chongqing's former top cop, Wang Lijun, fled for his life to the U.S. Consulate in Chengdu on Feb. 6, he set in motion a political storm that has not subsided. The battle behind the scenes turns on what stance officials take toward the persecution of Falun Gong. The faction with bloody hands—the officials former CCP head Jiang Zemin promoted in order to carry out the persecution—is seeking to avoid accountability for their crimes and to continue the campaign. Other officials are refusing to participate in the persecution any longer. Events present a clear choice to the officials and citizens of China, as well as people around the world: either support or oppose the persecution of Falun Gong. History will record the choice each person makes.
The Epoch Times publishes in 35 countries and in 19 languages. Subscribe to our e-newsletter.
Click www.ept.ms/ccp-crisis to read about the most recent developments in the ongoing crisis within the Chinese communist regime. In this special topic, we provide readers with the necessary context to understand the situation. Get the RSS feed. Who are the Major Players?