Chinese Communist Authorities Seek Taiwanese 'Internet Spy'
November 9, 2007 12:00 am Last Updated: November 9, 2007 12:00 am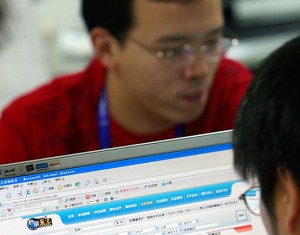 Amidst the intense and ongoing "information war" between China and Taiwan, a Global Times article on October 30, 2007 reported on how Beijing issued a warrant for Lee Fangrong, with the claim that Lee is a Taiwnese Internet spy.
On October 31, Taiwanese legislator Sandy Yen responded to the incident and said that the Chinese Communist Party (CCP) has a well organized and financially supported Internet army to steal political, financial and military information, and also advanced technology knowledge from key countries. Yen claims that the CCP is accusing others of crimes that they themselves commit.
During a recent interview with Global Times, the CCP's Ministry of State Security stated that it has issued a warrant to arrest the "Internet spy" Lee Fangrong. Furthermore, they said that, "if caught, severe punishment is guaranteed." The Ministry of State Security also claims that the CCP authorities are aware of many Taiwanese spies who are involved in Internet espionage.
According to the recently released semi-annual Internet saftety report by the National Computer Network Emergency Response Technical Team/Coordination Center of China (CNCERT/CC), tens of thousands of Trojan IP's located outside of China were discovered during the first half of 2007.
Forty-two percent of the Trojans belonged to Taiwan and 25 percent belonged to the United States. In addition, there were several thousand botnet network servers that control computers in mainland China from the outside, with 32 percent belonging to the United States and 15 percent belonging to Taiwan.
Neither the Taiwan National Defense or the Taiwan Military Information Bureau have responded to the sensitive report. The authenticity of CNCERT/CC's report has yet to be verified by other sources.
A press release by Sandy Yen on October 31, claims that the CCP Internet army's recent attacks in Taiwan, United States, Europe, and Asia have been denounced internationally. The Trojan and backdoor viruses created daily by the CCP account for one-third of their kind globally. Also, China has often been called the "Internet terrorist of the world."
According to Yen, it's nothing new that Taiwanese reporters are attacked by the CCP's Internet army more than a thousand times a day, yet the CCP uses the media to complain about being attacked. She said that the international community should work together to reprimand the CCP's misdeeds.
Yen pointed out that the CCP's establishment of an Internet army not only hacks the computer system of other governments but also damages computer systems throughout the world. The CCP's military hackers recently attacked the German government computer system on a large scale with Trojan horse viruses to steal confidential information. The hackers in the People's Liberation Army have continuously attempted to invade the British government's computer system, including that of the Prime Minister's office.
Yen said that if Taiwan maintains its silence, the CCP will use media wars to shift the blame onto Taiwan and use Taiwan as a scapegoat.