Chinese Civil Service Applicants Vie for Government Jobs
October 29, 2012 1:58 pm Last Updated: October 1, 2015 11:59 am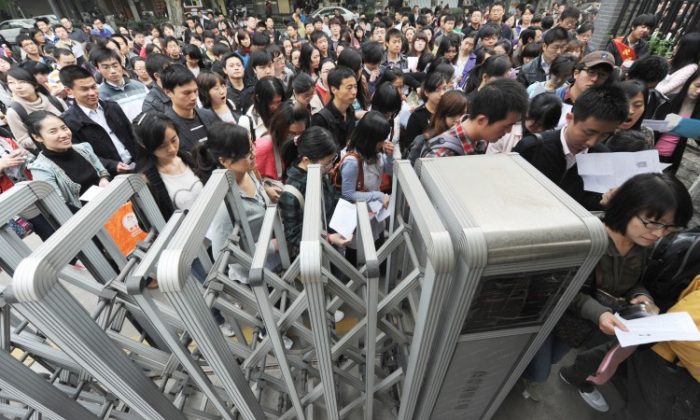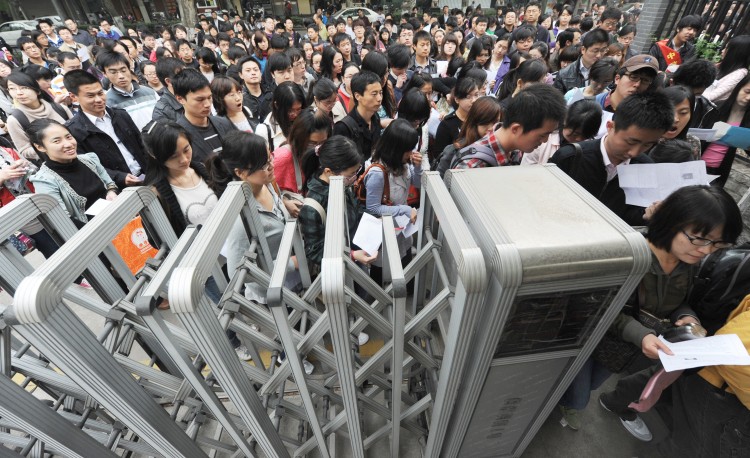 Applications for China's 2013 civil service exam are thought to have exceeded 1.5 million this year, and with only 20,800 vacancies in China's bureaucratic apparatus, applicants are in stiff competition for a coveted government job. The reason that the slow-paced, low paid positions are in such demand sparked discussion online, with many concluding that it reflects poorly on the state of contemporary Chinese society.
Beijing News reported enormous numbers of applicants competing for jobs in the State Ethnic Affairs Commission and the National Bureau of Statistics (NBS). The most sought-after job is at the NBS, which has reached a record-breaking 9,411 applicants for only one vacancy. The Commission's senior staff posts attracted 11,158 applicants for three vacancies.
There are 132 positions that have no applicants at all, or no qualified applicants, according to preliminary statistics released by the State Administration of Civil Service (SACS). However, these positions are either in remote poverty-stricken areas or require special expertise.
"Most of the positions without applicants are associated with traditionally unpopular ones, such as those in meteorological offices, or in the postal offices and supervisory offices located in remote areas," said Li Yongxin, a researcher of education in China, to Beijing News.
Public Discussion
Netizens and bloggers suspected that the real reason behind the onslaught of applications was simply laziness. "What do you think of people working in the government?" one person asked. Another netizen replied, "Slowly do the job, and then pour yourself a cup of tea, and start reading a newspaper…"
Another netizen wrote on the Nihaowang online community, "It is not good for over 76.5 percent of college graduates in China to be eager to apply for government jobs. Former Russian President Dmitry Medvedev once said if young people in a country are competing for civil service jobs, the country could be corrupt to the core."
On his blog, Zhou Xinghai, general manager of Ya'an E-Commerce Corporation in Jiangsu Province wrote: "According to the government's relevant regulations, civil service jobs do not deserve a high salary. But why are still so many people vying for vacancies in the government? There is only one reason; they are profitable posts. If all the young people have such a 'vision' about government positions, it would be terrifying."  
Read the original Chinese article. 
The Epoch Times publishes in 35 countries and in 19 languages. Subscribe to our e-newsletter.
Click www.ept.ms/ccp-crisis to read about the most recent developments in the ongoing crisis within the Chinese communist regime. In this special topic, we provide readers with the necessary context to understand the situation. Get the RSS feed. Who are the Major Players?