A Gestapo-like organization in a Chinese city detained a group of spiritual believers in an isolation center for one month of brainwashing, reported U.S.-based website Minghui.org, which is dedicated to exposing the Chinese Communist Party's (CCP's) persecution of Falun Gong.
Falun Gong, also called Falun Dafa, is an ancient Chinese spiritual practice. It consists of simple, slow-moving meditation exercises and teachings on incorporating the principles of truthfulness, compassion, and tolerance in everyday life.
The 610 Office in Ningbo City of China's eastern Zhejiang Province, detained 10 Falun Gong adherents in a local brainwashing center at Zhongzhan Village. The facility is housed within Xiangshan Zhifeng Vocational Skills Training School, which also served as a training center for the county's police authority.
In mainland China, the 610 Office is a secret, extra-legal nationwide network that targets Falun Gong practitioners. Nicknamed as China's "Gestapo," it has the authority to employ the country's vast resources in the public security, procuratorate, justice, and propaganda sectors to oppress millions of Falun Gong practitioners.
The indoctrination, which was funded by the local political and legal affairs commission, lasted one full month, from Aug. 26 to Sept. 28, according to Minghui.
The head of the local 610 office, Tong Weichang, orchestrated and conducted the one-month program, with the help of state-backed community workers, psychologists, and spiritual gurus cooperating with the CCP.
Brainwashing sessions were scheduled daily for morning, afternoon, and evening sessions. The sessions included intensive reading classes, intended to persuade detainees into renouncing their faith by indoctrinating anti-Falun Gong messages.
The organizers also used one-on-one conversations to coerce the faithful. Some of the detainees were not allowed to go to sleep at night for refusing to listen to the persecutors' orders.
Upon the end of the program, the detainees were picked up by their respective officials and released.
Data shows brainwashing has long become one of the most frequently used tools by the CCP to suppress Falun Gong believers. A search on Minghui.org for the Chinese term "brainwashing session" returns more than 64,000 related articles. Such psychological torture is common in mainland China across all levels of government, state-run factories and workplaces, and even schools, though varying in scale or length of detention.
Meanwhile, Chinese authorities subject the group of believers to other forms of mistreatment, including deception, prolonged punitive sitting, sleep deprivation, and torture.
'Being Brainwashed Is a Horror'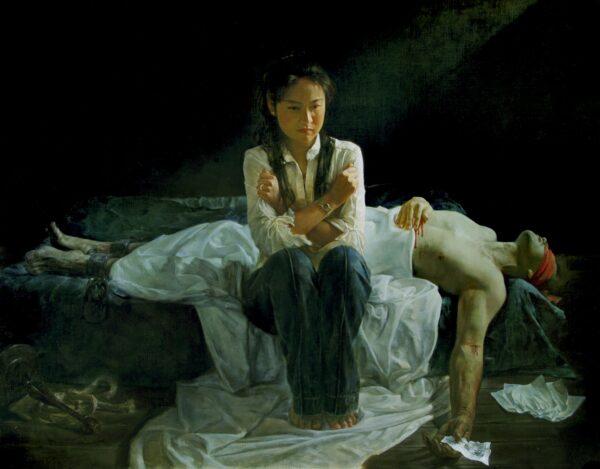 Previous survivors of the CCP's brainwashing efforts retold their experiences to The Epoch Times.
Lily Kong, a Canadian permanent resident, remembered her 3-month experience at an indoctrination center in a hotel of Guangzhou City in southern China's Guangdong Province in 2003, though she did not remember the exact name of the hotel due to her blurred memory.
"Being brainwashed is a horror," she told The Epoch Times on Oct. 26. "More painful than a blow or kick to your body … because the most important part in you is being pulled away from you."
There, she refused to eat anything for a week to resist the inhumane treatment. However, she eventually gave up when some CCP officials threatened her with dangerous forced feeding.
Kong relayed the story of another Falun Gong believer surnamed Peng. Peng was held at the Guangzhou Legal Education School for more than one year. The so-called school was a notorious brainwashing center in Guangzhou's Huangpu District. Peng told Kong that she had been severely beaten, forced to drink unclean toilet water, and pepper-sprayed in the face.
Kong fled China in 2013 and sought U.N. refugee protection in Thailand. In 2018, she was accepted as a refugee by Canada. Currently, she lives in Montreal, Quebec.
Canadian citizen Ivy Zhang told The Epoch Times on Oct. 26 that she was kept in a brainwashing facility in Taoshuping Detention Center of Lanzhou City in northwestern China's Gansu Province from Jan. 16 to April 19, 2001.
During the detention, she was held together with more than 50 fellow Falun Gong believers.
The local authorities organized CCP officials or propagandists to deliver anti-Falun Gong speeches, but met with resistance from the detainees, Zhang said. The speakers' talking points were challenged and they had to abort their lectures.
The Falun Gong practitioners were not only denied visits in detention, but placed under strict monitoring, with the lights in their cells kept on 24 hours a day, Zhang recalled.
Later, Zhang narrowly avoided being subjected to another two brainwashing sessions, which were respectively organized by her district in Gaolanshan starting from January 2002 and by her city in Gongjiawan in April 2003. However, the persecution continued to worsen, and news of detainees' death and torture began to get out to the world through the survivors.
In April 2013, Zhang moved to Canada. Since then, she has lived in the city of Burnaby in British Columbia.